There are a plethora of awesome tools that you can use in UX design projects but by far the most popular and one of the most useful is the user persona. In her work, Personas, Lene Nielsen describes four perspectives that your user personas can take to ensure that they add the most value to your UX design project. Let's have a look at each of them here:
Goal Directed Personas
This persona cuts straight to the nitty-gritty. What does my typical user want to do with my product? The objective of a goal-directed persona is to examine the process and workflow that your user would prefer to utilize to achieve their objectives. There is an implicit assumption that you have already done enough user research to recognize that your product has value to the user and that by examining their goals; you can bring their requirements to life.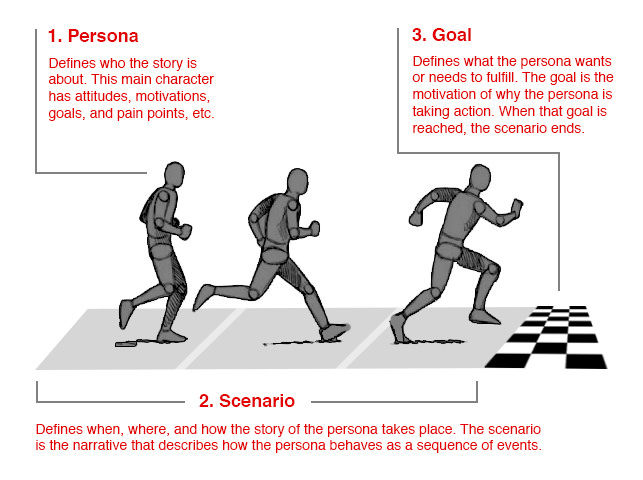 Author/Copyright holder: Smashing Magazine. Copyright terms and licence: All rights reserved Img source
Role Directed Personas
Sometimes our designs need to reflect the part that our users play in their organizations or wider lives. An examination of the roles that our users typically play in real-life can help inform better product design decisions. Where will the product be used? What's this role's purpose? What business objectives are required of this role? Who else is impacted by the duties of this role? What functions are served by this role?
Engaging Personas
This is a completely different look at personas and can incorporate both goal and role directed personas as well as the more traditional rounded user person used in many UX design teams. These personas are designed so that the people that use them can become more engaged with them. The idea is to create a truly 3D rendering of a user through the use of personas. The more that people engage with the person and see them as "real"; the better they are likely to consider them during design and want to serve them with the best product. These personas examine the emotions of the user, their psychology, their backgrounds and make them relevant to the task in hand.
Author/Copyright holder: Terri Phillips. Copyright terms and licence: All rights reserved Img source
Fictional Personas
The fictional persona does not emerge from user research (unlike the other user personas) it emerges from the experience of the UX design team. It requires the team to make assumptions based on their past interactions with the user base and products to deliver a picture of what, perhaps, typical users look like. There's no doubt that these personas can be deeply flawed (and there are endless debates on just how flawed) without direct user input but they often make for an excellent starting point in your user research. Think of them as an initial sketch of user needs rather than a detailed portrait. They allow for better early involvement, with your users in the UX design process, from your team but should not be taken as gospel until they have been validated with your real users.
Header Image: Author/Copyright holder: UX Lady. Copyright terms and licence: All rights reserved. Img