There are millions of resources on and offline stuffed to the brim with travel tips, and if you want to become an expert traveler—you'll spend quite a bit of time reading up on these. However, you don't have to be an expert to get the most out of the travel experience. Even so, a few simple pointers can help you out nearly everywhere in the world.
Use Credit Cards with Reward Schemes
If you can, before you go anywhere, find out which local bank offers credit (and/or debit) cards with air miles-related rewards. Then pay for all your big ticket items (and smaller ones, if possible) with these cards. This can save you a fortune on travel expenses. Many nomads find that they can cover all their flights in a year with points gained through credit card schemes. Still, you should make sure that there are no extra fees which would make this credit card more expensive to use in the end.
Note: Always clear credit card balances in full each month. We're not encouraging you to get into debt – in fact, we strongly advise against it. Credit card interest is vicious if you don't clear the balance.
Join Air Miles Schemes
It's not just banks that give away air miles—many airlines do, too. It's worth noting that many airlines also offer an incentive just to join their scheme in the form of a little extra luggage allowance or faster check-in times. Quite a few airlines also operate joint air miles schemes so that you can carry miles from one airline to the next.
The more you travel, the more benefits you can reap from these schemes, and if they work alongside your bank's air miles scheme—so much the better.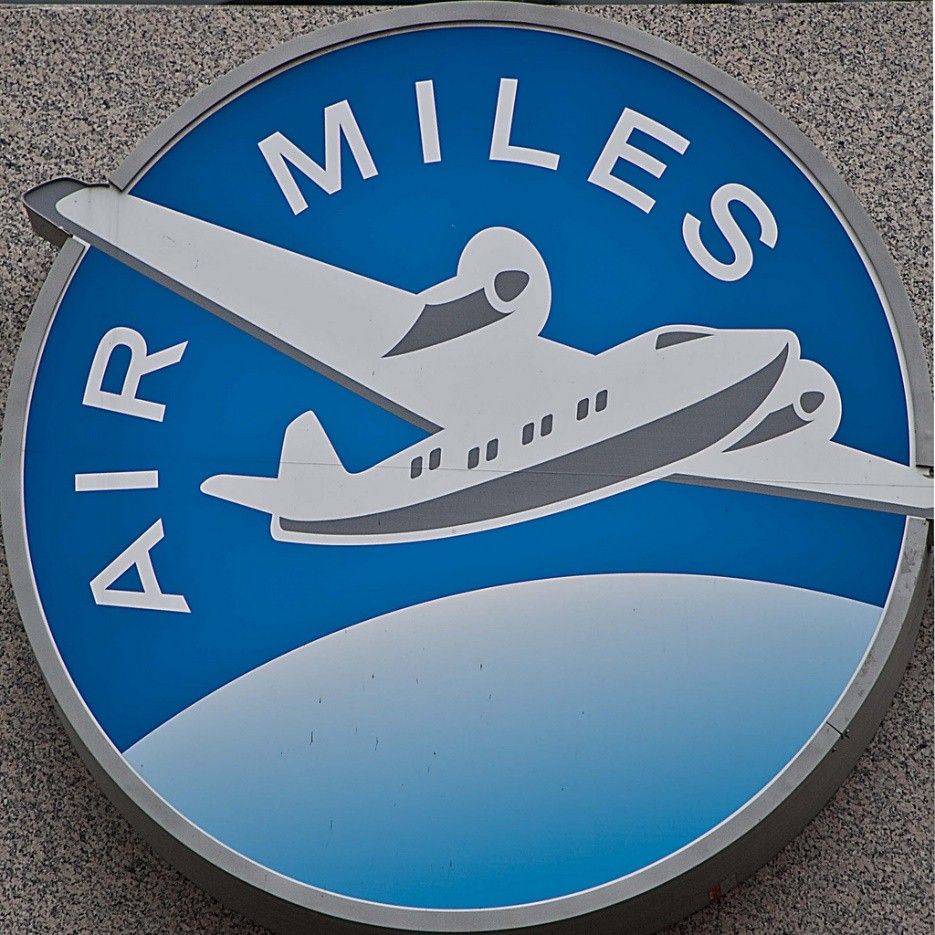 Author/Copyright holder: Mark Morgan. Copyright terms and licence: CC BY 2.0
Air Miles can help you travel the world on the cheap. That gives you more money to spend when you get somewhere rather than on the getting there.
Cheap Travel is Not Always Good Travel
Saving money is a good thing—but only if it doesn't greatly inconvenience you in return. It may cost $100 more to fly from Ho Chi Minh City to Hanoi than to take the bus, but it takes 34 hours less to do so. Examine your options in terms of what your time is worth – you'll probably find that your time is worth more than $3 an hour (which is what the difference between bus and plane gives you in this case).
Also, examine all airlines and not just budget carriers. Regional and national carriers are often not much more expensive than budget carriers. They will normally offer better perks (air miles), more reliable schedules, more leg room and no hidden charges. Compare what you get carefully before trying to save $20 on a flight.
You Don't Need a Business-Class Ticket to Use a Business Class Lounge
If you've ever tried to work in an airport, you'll know it can be a nightmare. It can be hard to find somewhere to sit. It's harder still to find internet, and—in many cases—you may have to pay a substantial fee for internet. Food and drink are expensive. Noisy crowds mill about all around you. There—did you finally find internet? Good!—it's just too bad about that kid who decided to start screaming behind you whose parents aren't too worried about your train of thought for your client.
Business-class lounges are your solution to this. In nearly every airport there will be a pay-to-use business-class lounge. For $20–$30, you can normally get a comfortable, quiet seat, unlimited high-speed internet and unlimited food and drink and—occasionally—other facilities such as showers, pool tables, PlayStation games, etc. for 4–6 hours without any other charges.
Just ask at airport information to find out where they are. Some bank accounts and air miles schemes also offer free lounge access. It never hurts to ask.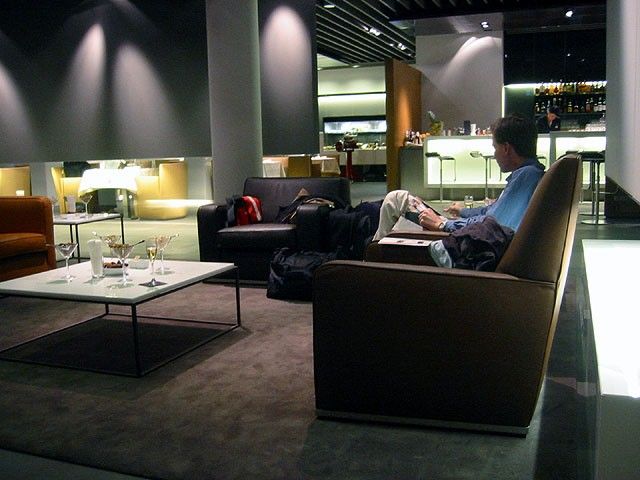 Author/Copyright holder: Don Serapio. Copyright terms and licence: CC BY-SA 2.5
Business-class paid access lounges are the best kept secret in travel. They offer free food, drink and Wi-Fi in luxurious circumstances and often cost less than a meal and a drink elsewhere in an airport.
Travel Insurance Can Be Free
Again, many credit card companies offer free travel insurance when you book flights using a card. It's worth checking this out as the savings over any period can add up considerably.
Always check the fine print on travel insurance, too. Electronic goods often have very low (or no) coverage; upgrade your insurance if you don't get appropriate levels of cover.
Health Insurance
Some countries offer mutual health insurance treaties in that they offer the same care to the citizens of another country, and on the same terms as their own citizens get it. This system of reciprocity is common, particularly in the European Union. It's worth checking to see if this is sufficient before investing in health insurance.
Otherwise, health insurance is vital. Private treatment costs even in the cheapest destinations can mount up quickly and—often—travel insurance will only cover emergency treatment and then require you to return to your own country for further treatment.
Landing Services Can Beat Big Queues
Many airports around the world offer priority services for passengers when they land. If you reach immigration and realize it's going to take hours to be processed, these services, which are normally pretty cheap at $10–$20 max., can be used to beat the queues and get you moving quickly onwards. Again, it all comes down to what your time's worth. Saving four hours in an airport is often worth paying for. Ask at airport information for advice on this.
Only Carry Cash and Cards That You Need
When you reach your accommodation, get all the cash and cards you're carrying—along with your passport—and put them in the safe (or put them in a pair of socks and stick them in your shoes in your bag). Get a photocopy of your passport and the visa page done in the hotel. Then keep only a single card and enough cash for the day on you, plus the photocopy.
No matter how efficient your bank's lost card replacement services are… it's a pain to be stuck somewhere with no money and no access to it.
Always Get a Business Card from the Place You're Staying
Want to be able to get back to your digs no matter what happens? Carry a business card from their place and don't keep it in your wallet – in case it gets lost or stolen. This is even more important if you're in a country where you don't speak the language or a place where you don't know the layout of the city. Always pick up a business card when you check in.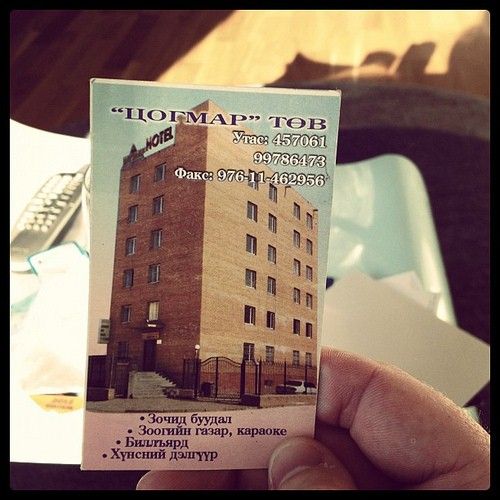 Author/Copyright holder: Mark R. Copyright terms and licence: CC BY-NC-ND 2.0
Hotel business cards help make sure you can get home whenever you get lost – pick up a handful if you need them. Don't be shy – that's what they're for.
Don't Panic
It may have been Douglas Adams' Hitchhiker's Guide to the Galaxy that popularized the phrase, but it's true all the same. If things go wrong—and they will; it's how life works—panicking is a bad idea. If you get lost, keep asking people for directions – English is widely spoken everywhere, and it may take a while to find someone, but you will find someone. If you do lose something or it's been stolen, contact your insurer and follow their process. Keep a cool head—every problem has a solution.
You may find silver linings in bad events, too; they often make for the best "war stories" when you catch up with old friends and other digital nomads and entertain them with stories of your travel experience. You'll have lived to tell—and chuckle—about it. Time heals.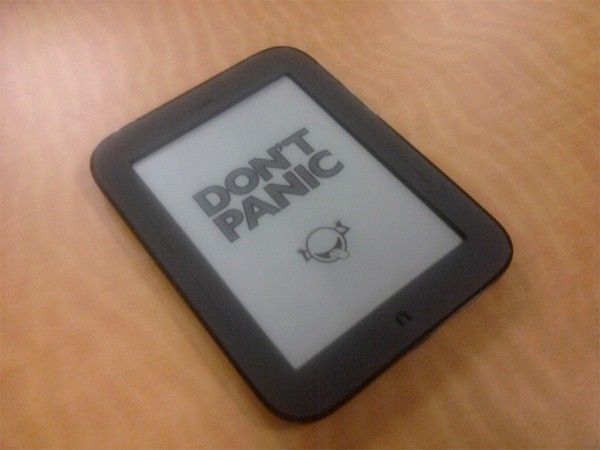 Author/Copyright holder: Dhbillings. Copyright terms and licence: CC BY-SA 3.0
"Don't Panic" is the best advice you'll ever get as a digital nomad. Keep your cool and be patient. Even the worst moments have a way of turning out OK in the end.
The Take Away
As you become more experienced as a traveler, you'll find yourself coming up with your own list of tips, too. Writing them down can be a good way to keep them in mind when you need them. The tips above will get you started on your personal combination of work and travels, but—as with all travel and work—each journey will be unique, which is part of the overall beauty.
References & Where to Learn More
Hero Image: Author/Copyright holder: Rene Ehrhardt. Copyright terms and licence: CC BY 2.0
Douglas Adams: The Hitchhiker's Guide to the Galaxy, 1981
See more travel tips here.
And here.