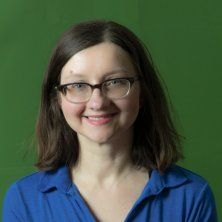 Eva Kaniasty
UX Consultant at Red Pill UX
Boston Massachusetts United States
Description
Mentoring Logistics: I am located in Boston, MA, and available for mentoring calls from 9:30am-10:30am EST on Tuesdays and Thursdays most weeks. I am also available for in-person meetings in Boston metro. Please note that I am only familiar with the job market in the United States, so if you are looking for career advice in another country, you should look for someone local.

You can always message me about the Brandeis program at kaniasty@brandeis.edu.
------

Eva Kaniasty is the founder of Slipper Studios, a user experience consultancy providing user experience strategy, research and interaction design in the Boston area. Eva has improved user experiences in a range of industries, including healthcare, education, financial, and software. She received her Master's in Human Factors from Bentley University in 2007, serves as Chair of the Brandeis online Master's program in UX, and is a repeat presenter at local and national conferences. In addition, Eva served as board member of UXPA Boston for 7 years, 3 of them as the organization's president.

----
Mentoring topics: UX education, user research, professional networking, contracting/consulting.
Courses Eva Is Taking