Robert Kosara
Assistant Professor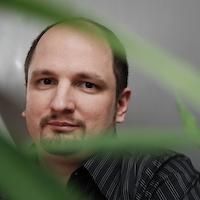 Personal Homepage

http://eagereyes.org

Employer

University of North Carolina at Charlotte (UNCC) ()

Email

rkosara@uncc.edu
I am an Assistant Professor at the Department of Computer Science, College of Information Technology, at the University of North Carolina at Charlotte (UNCC), where I am also a member of the Charlotte Visualization Center.

I received both my Ph.D. (2001) and M.S. degrees from Vienna University of Technology (Vienna, Austria). Before coming to Charlotte, I worked at the VRVis Research Center and the in-silico pharmaceutical research company Inte:Ligand.

My research is in Information Visualization (InfoVis) and Visual Analytics. The goal of these fields is to translate data into images that we can interact with and read to understand the underlying data.
Publication Statistics
Publication period start

2001

Publication period end

2010

Number of co-authors

13
Co-authors
Number of publications with favourite co-authors
Productive Colleagues
Most productive colleagues in number of publications
Publications
Ziemkiewicz, Caroline, Kosara, Robert (2010): Beyond Bertin: Seeing the Forest despite the Trees. In IEEE Computer Graphics and Applications, 30 (5) pp. 7-11. http://dx.doi.org/10.1109/MCG.2010.83
Ziemkiewicz, Caroline, Kosara, Robert (2010): Implied dynamics in information visualization. In: Proceedings of the 2010 International Conference on Advanced Visual Interfaces , 2010, . pp. 215-222. http://doi.acm.org/10.1145/1842993.1843031
Kosara, Robert, Drury, Fritz, Holmquist, Lars Erik, Laidlaw, David H. (2008): Visualization Criticism. In IEEE Computer Graphics and Applications, 28 (3) pp. 13-15. http://doi.ieeecomputersociety.org/10.1109/MCG.2008.63
Kosara, Robert (2007): Visualization Criticism - The Missing Link Between Information Visualization and Art. In: IV 2007 - 11th International Conference on Information Visualisation 2-6 July, 2007, Zürich, Switzerland. pp. 631-636. http://doi.ieeecomputersociety.org/10.1109/IV.2007.130
Bendix, Fabian, Kosara, Robert, Hauser, Helwig (2005): Parallel Sets: Visual Analysis of Categorical Data. In: InfoVis 2005 - IEEE Symposium on Information Visualization 23-25 October, 2005, Minneapolis, MN, USA. pp. 18. http://doi.ieeecomputersociety.org/10.1109/INFOVIS.2005.27
Kosara, Robert, Bendix, Fabian, Hauser, Helwig (2004): TimeHistograms for Large, Time-Dependent Data. In: Deussen, Oliver, Hansen, Charles D., Keim, Daniel A., Saupe, Dietmar (eds.) VisSym 2004 - Symposium on Visualization May 19-21, 2004, Konstanz, Germany. pp. 45-54,340.
Schrammel, Johann, Giller, Verena, Tscheligi, Manfred, Kosara, Robert, Hauser, Helwig, Miksch, Silvia (2003): Experimental Evaluation of Semantic Depth of Field, a Preattentive Method for Focus+Contex. In: Proceedings of IFIP INTERACT03: Human-Computer Interaction , 2003, Zurich, Switzerland. pp. 888.
Kosara, Robert, Healey, Christopher G., Interrante, Victoria, Laidlaw, David H., Ware, Colin (2003): User Studies: Why, How, and When?. In IEEE Computer Graphics and Applications, 23 (4) pp. 20-25.
Kosara, Robert, Miksch, Silvia, Hauser, Helwig (2002): Focus and Context Taken Literally. In IEEE Computer Graphics and Applications, 22 (1) pp. 22-29. http://csdl.computer.org/comp/mags/cg/2002/01/g1022abs.htm
Kosara, Robert, Miksch, Silvia, Hauser, Helwig (2001): Semantic Depth of Field. In: InfoVis 2001 , 2001, . pp. 97-104. http://csdl.computer.org/comp/proceedings/infovis/2001/1342/00/13420097abs.htm
Kosara, Robert

35.8

Commentary by Robert Kosara
35.8.1

Metaphors and Interaction

One important topic Stephen Few only mentions briefly in his very well-written and comprehensive piece is interaction. While static charts and visualizations are undoubtedly useful, they make little use of the immense computing power that is readily available to us today. Interaction in visualization enables the fast exploration and discovery of data patterns that the user may not even have expected. It is also possible to reduce the amount of data shown at the same time, providing clearer visualizations, while still giving the user the option to get that information on demand at any time.

Ben Shneiderman captured the role of interaction in his famous visual information seeking mantra (Shneiderman, 1996): overview first, zoom and filter, then details on demand. Abstract information spaces require an overview so the user has an idea where to even find data, but then it is necessary to zoom in to see details. Filtering data is important when dealing with larger datasets. Finally, details on what is shown (and also what is not shown) can be retrieved by the user as needed. All of these steps require interaction, where the user tells the visualization what he or she wants to see.
35.8.2

Simple Interactions

Among the simplest interactions are tooltips or other data displays that appear when the user points at a part of a visualization. Take the causes of death bar chart in Few's article above: the numbers could be shown purely on demand, perhaps including not just percentage but total number. Also, a vertical line could be drawn from the end of the active bar to the scale at the top, to make it easier to see the bars in context.

This type of interaction is effortless and easy to discover: just move your mouse over the display and see if anything happens. Displaying numbers in charts is also rather common. But the real power comes from the more advanced interactions.
35.8.3

Linking and Brushing

Brushing lets the user selects data points that get highlighted in one or more views of the same data. When several views are involved, the fact that all of them highlight the same data points is commonly referred to as linking (and the views are called coordinated multiple views). Consider this example of linked bar charts of data about passengers on the Titanic. Each bar chart represents one data dimension (class, gender, age, and survived), and shows a histogram of how many people were in each of the categories.
To find out how many people survived in each category, we will select the relevant bar, which will brush those data points in all the views. We can now compare survival rates for different sexes, classes, etc. by looking at how much of their respective bars is highlighted.
Courtesy of Robert Kosara. Copyright status: Unknown (pending investigation). See section "Exceptions" in the
copyright terms
below.
The mechanism is very similar for individual data points rather than summary data like in this example. Brushing and linking make it possible to find out high-dimensional relationships in the data by trying out different possibilities.
35.8.4 Metaphors and Structure
Metaphors have a somewhat complicated history in visualization. There is not even a clear understanding what a metaphor even is: many people talk about visual metaphors when they mean different ways of depicting data, but others use them specifically for somewhat embellished visualizations (flowers growing to represent traffic in chat rooms, etc.).
What I want to add here is a combination of both, perhaps best summarized as structure: how do the relationships between elements in the visualization influence how people read the data? Caroline Ziemkiewicz and I have done work on this topic, and have found that the big-picture structure plays a bigger role than most people would assume.
When comparing different types of tree visualizations, we found that different studies had come to different conclusions as to which method works better based on which metaphor was used in the question: A being contained in B, or A being below B in the hierarchy. We did a study and found that there was, indeed, a compatibility effect between the linguistic metaphor used in the question and the visual metaphor of the visualization (Ziemkiewicz and Kosara, 2008).
We recently showed that there is an apparent effect of gravity between objects in a visualization that can distort the perception of distance (Ziemkiewicz and Kosara, 2010).
35.8.5 The Future
While we know a lot about how to create reasonable visualizations, there is still a lot we do not know or are not yet aware of. Even seemingly basic knowledge like how the layout of a visualization influences our reading of the data still needs more work to be understood and turned into useful recommendations and best practices.
Interaction is not exactly a new topic in visualization research, but is still rather rudimentary in many visualization and charting programs. To really unlock the power of visualization, these programs will need more advanced capabilities as well as ways to educate their users about their interactive features. Visualization has a lot more to offer than what most people are aware of today.
35.8.6 References
Shneiderman, Ben (1996): The Eyes Have It: A Task by Data Type Taxonomy for Information Visualizations. In: VL 1996 1996. pp. 336-343.
Caroline Ziemkiewicz, Robert Kosara, The Shaping of Information by Visual Metaphors, Transactions on Visualization and Computer Graphics (Proceedings InfoVis), vol. 14, no. 6, pp. 1269-1276, 2008.
Caroline Ziemkiewicz, Robert Kosara, Laws of Attraction: From Perceived Forces to Conceptual Similarity, Transactions on Visualization and Computer Graphics (Proceedings InfoVis), vol. 16, no. 6, pp. 1009-1016, 2010.