Ever wondered how you can get greater support for UX design within your organization? Ever considered a mid-career transition into design? Ever worried that your design skills might come up short when you work with unfamiliar new technology? These are common concerns in the UX design industry, but it's often hard to come by reliable, experience-based advice to help navigate them.
To help answer some of these burning questions, we interviewed Kevin Bethune, Founder of dreams • design + life, former TED speaker and former design executive at Nike and Boston Consulting Group. Kevin's advice comes from 20+ years spent at the intersection of business, design and tech. From his career, you'll learn why designers have an important role in the future of tech, and how you can use that opportunity to rapidly accelerate your design career.
What was your first ever design-oriented role and how did you get it?
I found design mid-career. Even though I started my career as a mechanical engineer, I was always curious about creative career pathways (drawing had always been a hobby). It wasn't until I joined Nike that I met real, professional product designers. When I made friends with them, I shared my hobby and a few creative directors gave me opportunities to cut my teeth on footwear design and innovation projects under their mentorship. I managed these as stretch assignments on top of my "day job." When a couple of pairs of my footwear designs launched in the market, I decided to formalize my creative foundation and pursued a Masters of Science in Industrial Design (at the ArtCenter College of Design).

I think design is one of those fields that mid-career professionals can transition into relatively easily and more people should consider it, especially those who are creatively inclined.
What career decisions led to the role you are in today?
A combination of market disruption and the serendipity of my career pivot into design (built on my prior engineering and business backgrounds), allowed me to serve as a co-founder of an incubator. We were eventually acquired by BCG (Boston Consulting Group) and became BCG Digital Ventures (BCGDV). I was VP of Strategic Design, and led a very large team of strategic designers who would influence every corporate venture (i.e. startup) that was sparked with our large enterprise clients.
While grateful for that opportunity to serve such a wonderful group, my passion for the intersection of physical and digital experiences and unlocking human potential led me away to start my own company, dreams • design + life.
Where do you see the industry going in the next 5-10 years?
As market-based and technological forces continue to accelerate and converge within our daily lives, users will increasingly search for "sources of truth"—those novel experiences that enrich their lives and solve their problems. Organizations will increasingly require teams to make sense of headwinds and tailwinds in the industry and use these indicators to elevate user experiences.
Over the next 5-10 years, we will be less concerned about who has the best app in the app store, or who has the best smartphone in their hands. As the boundaries between interfaces blur, the demand for human connection will only increase, and new technologies will offer designers a way to create immersive opportunities for human connection. Companies will rush to capitalize on this but, to cut through the clutter, designers need to create authentic experiences that strike a real chord, as these are what users will gravitate to. This is only possible if designers deepen their knowledge of user, product and market insights alike, and this has an important implication on the future of design talent.

How can you cultivate your breadth & depth of expertise and provide a significant push to humanize our experiences for the better?
The market will require designers who can identify the right human-centered opportunities and exert strategic influence upon them (i.e. connecting the dots to align multidisciplinary teams around these opportunities). In the future, designers will need deep—and occasionally niche—expertise to deliver excellent and tangible outcomes. I imagine that most people will get really good at innovation and strategy or enhanced design execution, but the future belongs to those who can master both!
You have to find the right balance of breadth and depth that works best for you—and your organization. You can learn how to get started with this on the upcoming IxDF webinar on disruptive design.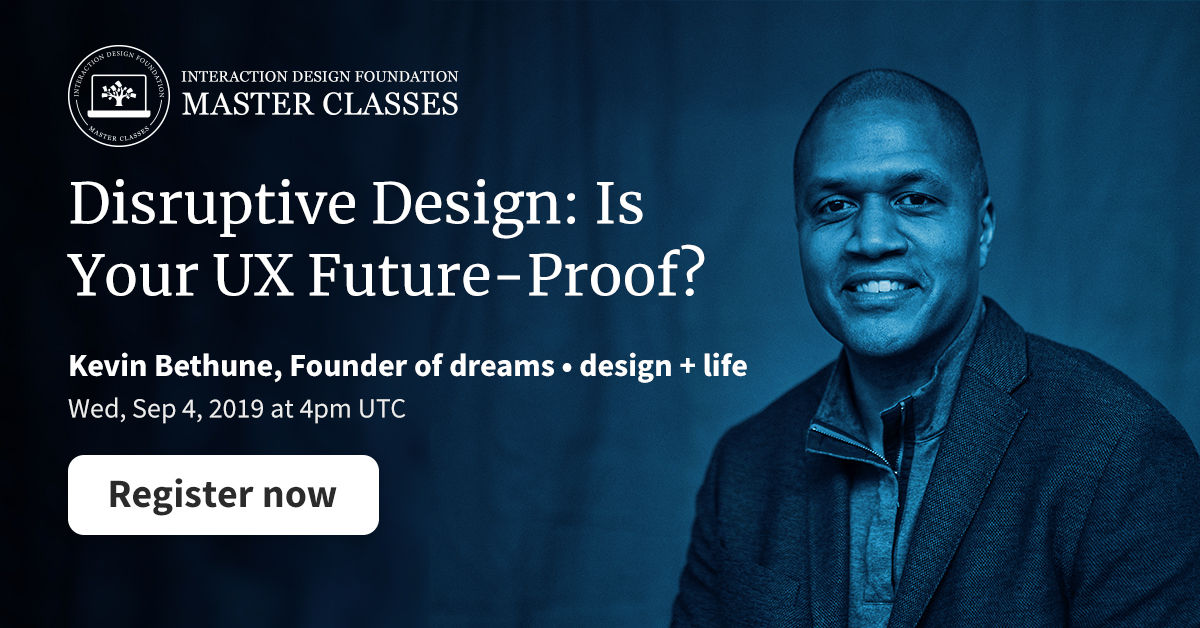 What advice do you have for designers of today to prepare for the opportunities of tomorrow?
Never stop learning. Early in your career or at the beginning of a new role, learn as much as you can and really master the fundamentals through several cycles of experience (which builds your resilience, grit and adaptability). More importantly, this helps you hone your depth of expertise over time so that a team can hang their hat on your expertise and trust that you will deliver. At the same time, you have to keep some bandwidth to investigate your curiosities (the nature of other disciplines, what real people need in the market, inspiration sources, cultures, adjacent spaces, emerging tech., etc.) and even experiment on them. This builds your breadth of knowledge.
Though it's hard to predict the timing, this approach of maximizing the depth and breadth of your knowledge will always open up new doors of opportunity and give you the courage to embrace and shape the future.
Your top 3 tips for how design teams can work in tandem with engineering and business departments?
1. Remain conscious of how well you empathize with folks in the other disciplines
Ask yourself, "what do my teammates need to be successful in their work?," and how does this map to the overarching business objectives that unite us all? How can design's ability to understand human behavior and elevate stories of new user experience also serve the business and shape technology? When you crystallize the latent needs of your teammates, it will serve as a central rallying point to bring the team together.
2. Assume good intent and accommodate other professionals in your process
Since many organizations are still new to multidisciplinary teams, you should never assume that others will instantly understand your process. It's essential to get the right chemistry in the team, and you must create room within your work to accommodate the learning curves of other departments. You should balance what's essential for you to do your job with the flexiblility to adjust your process for interdisciplinary realities. When you make a conscious effort to work as a multidisciplinary team, you have to create the ideal conditions for your non-design colleagues to understand and participate in your work. I've seen many designers experience rejection if they push too much theory about their process or remain a "purist" in their approach. Be visionary, yet pragmatic.
3. Contextualize your work so others can better understand your rationale
In a multidisciplinary team, it's not enough to post a design iteration up on the wall—in other words, you must not present your work without context as this could preclude your teammates from other departments from contributing effectively. You should always reinforce where you are in the design process so that others can best interpret the state of the work product and give you the feedback that you require. Lastly, you must also reinforce the guiding principles that informed your iteration (e.g., "what commitment are you asking of the end-user?," "what options are you presenting?," "how are you making them successful and what is the expected outcome?").When you explain your approach and expectations from colleagues, you can make the feedback process more objective and effective.
Your go-to strategy to get management buy-in for more investment in design and design teams?
Evidence, evidence, evidence. Create the evidence. Talking the talk only goes so far. For instance, in the origin of BCGDV, the early leadership team didn't know what to really ask for from our design team—beyond their preconceived notions of what they thought design would bring to the table). We had to show what was possible, with each project, with each client, with each iteration, and take ownership of our creative process and how it integrated with the rest of the team. Leadership will eventually see and respect the evidence that design can move the needle, and they'll want more of it over time.
What do you wish you knew when you started out in the industry?
Though I have no regrets, I wish I would have understood sooner the organizational psychology and political paradigms that exist within corporations in respect to how they view design. I wish I could have predicted the energy it would take to assert design's proactive influence in environments where multidisciplinary teams were so new. I always ask, could we have achieved our momentum even faster? During my MBA program, I remember that we studied many organizational archetypes to comprehend how business influence could be achieved in different circumstances. We now need to have this same conversation for the design world and share our best practices collectively. Business needs to keep up with the potential technology offers, and design is the missing piece of the puzzle—so I'd encourage designers to learn how to navigate the attitudinal and organizational barriers that limit them.
Ready to take the first step towards future-proofing your UX career? Join our webinar on Disruptive Design for an in-depth look at strategies and real-world examples that can guide you. You'll also have the chance to ask Kevin Bethune your questions in the live Q&A. The webinar is on September 4th, 2019 at 4 PM UTC and is open to all. Register here: http://bit.ly/2HzOB6u
VR and AR technology are some of the strongest forces that drive innovation today. To upskill yourself in preparation for niche design opportunities in the VR and AR world, enrol in our advanced course on How to Design for Augmented and Virtual RealityYou'll learn from Frank Spillers' extensive experience with AR and VR projects and earn a course certificate to showcase your new skills.