Thomas Visby Snitker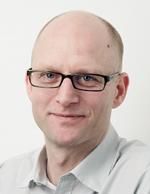 Personal Homepage

Employer

()

Email

thomas@snitkergroup.com
Thomas is one of Denmark's leading usability specialists. He has extensive experience in user research and usability studies for Danish as well as for international companies.

Thomas is a frequent speaker at Danish and international conferences, such as The UX Masterclass, and blogs for the Danish edition of Computerworld. In addition, he serves as external reviewer at the IT University of Copenhagen, The Copenhagen Business School, The Technical University of Denmark and the Information Science School of Copenhagen.

Thomas has written the books 'Breaking Through to the Other Side - using the User Experience in Web, interactive television and mobile services' (2004) and 'Using the users - and create more user-friendly websites' (in Danish 2011) and contributed two chapters to 'The Handbook of Global User Research' (2010).

Before he founded SnitkerGroup, Thomas worked as a usability specialist in IT (in KMD), in a media agency (Mediacom and Beyond Interactive) and a web agency (Signal Digital and GreyDigital).
Publication Statistics
Publication period start

9223372036854775807

Publication period end

0

Number of co-authors

0
Co-authors
Number of publications with favourite co-authors
Productive Colleagues
Most productive colleagues in number of publications
Publications
Snitker, Thomas Visby

15.13

Commentary by Thomas Visby Snitker
15.13.1

Making usability simpler - the way forward?

I work with usability on a daily basis and my clients - most annoyingly - do not really take much interest in what I do for them. Unless of course I break something in the process.  Usually they just what to know how they can improve their user interfaces (UI). Well, that's acceptable for me - as a usability specialist that is what I am concerned with.

My customers may ask when to do what and why, but they only listen for as long as it takes to make up their minds — they look for the immediate UI tweaks and solutions, not for insight into the complex intricacies and interactions between users, contexts, media and services.  They request my complex research but would rather get a quick fix.

As a consequence, my company has launched a new service, UsabilityForce, to take the complexity out of usability research from the perspective of the customer. UsabilityForce allows producers, designers, developers and others to simply order videos of users thinking aloud while using the clients' service or product at their own leisure, following a test script with test tasks provided by the client.  The client can watch the videos and sum up the findings himself or we can provide that through one of our consultants.

The testers install a bit of code on their computer that allows them to hit Record, Pause and Stop. They also use a microphone to capture their audio and an internet connection to upload their video. In the standard test setup with five users, it usually takes only 3-4 hours to collect the five videos.

The contrast between simple and complex research is strong. Quicker versus slower, cheaper versus more expensive, simple versus complex. The ramifications of simpler research are far-reaching and include:
Less data takes less time to analyse, to report and react to.
Less time spent in research means quicker reaction time.
You go into detail with a smaller scope or a specific part of a larger scope.
Those who find it difficult to see the gains in complex usability because of the size of the investment will have less reason to hesitate. Maybe no reason at all.
Those who find that complex research takes too much time will find that the simple research is fast.
Simple testing may make new research topics relevant and feasible; things that where previously too small to test (in terms of costs versus benefits), like a Facebook page, a newsletter, a search engine result page, etc.
Simple testing can make continuous evaluations feasible - by making simple tests at a regular interval. This could feed into a structured measurement process using Key Performance Indicators (KPIs) all through a development process and ongoing after launch.
I imagine that the simple usability testing will provide a useful supplement to complex testing. As long as complex products and services are conceived and developed they of course need complex research. Furthermore, I speculate that these simpler research technologies will not only have an impact on how usability specialists conduct research, but also on how my 'annoyingly usability ignorant clients' will change. I imagine that some of them will understand better how to benefit from a user research project. They will do the math, they will build the business case, they will include their stake holders and they will persuade reluctant gate keepers.
I also imagine, and hope, that simpler research will allow our community to grow. Those clients who consume our services will grow more committed to the usability of their products and services; they will be more demanding and assertive in the field of usability and perhaps user experience (UX) as well. They will start to question our expertise and they will link their success to the usability of their user interfaces. They will set up a strategy for the user experience (UX targets) and measure the performance of their UX. Simpler research is a strong force and can change how we work and how well usability is adopted by those who need it.