Richard Baskerville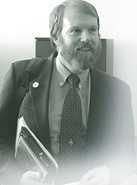 Personal Homepage

http://www.cis.gsu.edu/~rbaskerv/

Employer

Department of Computer Information Systems at Georgia State University ()

Email

baskerville@acm.org
Baskerville is a Professor in the Department of Computer Information Systems, J. Mack Robinson College of Business at Georgia State University. His research specializes in security of information systems, methods of information systems design and development, and the interaction of information systems and organizations. His interests in methods extend to qualitative research methods. Baskerville is the author of Designing Information Systems Security (J. Wiley) and more than 100 articles in scholarly journals, practitioner magazines, and edited books. He is an editor of The European Journal of Information Systems, and associated with the editorial boards of The Information Systems Journal and The Journal of Database Management. Baskerville's practical and consulting experience includes advanced information system designs for the U.S. Defense and Energy Departments. He is a former chair of the Department, and of the International Federation for Information Processing Working Group on Information Systems and Organizations, a Chartered Engineer under the British Engineering Council, a member of The British Computer Society and Certified Computer Professional by the Institute for Certification of Computer Professionals. Baskerville holds degrees from the University of Maryland (B.S. summa cum laude, Management), and the London School of Economics, University of London (M.Sc., Analysis, Design and Management of Information Systems, Ph.D., Systems Analysis).
Publication Statistics
Publication period start

1999

Publication period end

2009

Number of co-authors

11
Co-authors
Number of publications with favourite co-authors
Productive Colleagues
Most productive colleagues in number of publications
Publications
Baskerville, Richard, Levine, Linda, Pries-Heje, Jan, Ramesh, Balasubramaniam, Slaughter, Sandra (2001): How Internet Software Companies Negotiate Quality. In IEEE Computer, 34 (5) pp. 51-57. http://csdl.computer.org/comp/mags/co/2001/05/r5051abs.htm
Truex, Duane P., Baskerville, Richard, Klein, Heinz K. (1999): Growing Systems in Emergent Organizations. In Communications of the ACM, 42 (8) pp. 117-123. http://doi.acm.org/10.1145/310930.310984
Baskerville, Richard, Dulipovici, Alina (2006): The Ethics of Knowledge Transfers and Conversions: Property or Privacy Rights?. In: HICSS 2006 - 39th Hawaii International International Conference on Systems Science 4-7 January, 2006, Kauai, HI, USA. http://doi.ieeecomputersociety.org/10.1109/HICSS.2006.465
Sainsbury, Robert, Baskerville, Richard (2006): Distrusting Online: Social Deviance in Virtual Teamwork. In: HICSS 2006 - 39th Hawaii International International Conference on Systems Science 4-7 January, 2006, Kauai, HI, USA. http://doi.ieeecomputersociety.org/10.1109/HICSS.2006.128
Siponen, Mikko T., Baskerville, Richard, Kuivalainen, Tapio (2005): Integrating Security into Agile Development Methods. In: HICSS 2005 - 38th Hawaii International Conference on System Sciences 3-6 January, 2005, Big Island, HI, USA. http://doi.ieeecomputersociety.org/10.1109/HICSS.2005.329
Granlien, Maren Sander, Pries-Heje, Jan, Baskerville, Richard (2009): Project Management Strategies for Prototyping Breakdowns. In: HICSS 2009 - 42st Hawaii International International Conference on Systems Science 5-8 January, 2009, Waikoloa, Big Island, HI, USA. pp. 1-10. http://dx.doi.org/10.1109/HICSS.2009.357
Baskerville, Richard

33.10

Commentary by Richard Baskerville

Ned Kock's article, "Action Research: Its Nature and Relationship to Human-Computer Interaction", which appears in the HCI Encyclopedia of Interaction-Design.org, provides an excellent and stimulating introduction and overview into Action Research for the HCI researcher. There is little with which experts may disagree, except over the lacunae that are normally driven by space limitations.

Our moniker includes the word "research" and this part of the term leads scholars to regard the technique in the context of other research approaches, as Kock does in his comparison with experiments, surveys, etc.  But action research's origins are more humble. It originated primarily as a means for researching a practical problem, usually something along the lines of, "How do we get our organizational members to stop behaving badly?" Action research is not only for academic research or even for research-and-development. It is also a means by which an organization can undertake self-therapy to make itself better. Such non-academic action research may not spill out top publications, but it can cure an organization's ills. Little wonder it is a useful approach for consultants seeking to help those in need of organizational development (Baskerville & Wood-Harper, 1998).

In one sense, action research is such a painfully simple idea that the many layers of epistemology, methodology, and infrastructure might seem superfluous.  Why bother? We bother because this rigor is necessary to those researchers (such as the academics) that plan to capture the general knowledge gained in the action research and introduce this into the scientific literature. It is made necessary if we are to produce more than just the practical solution, but also the "credentialed" knowledge that can be proven valid and reliable. Kock is on-target with his pluralist discussion of action research epistemology. After all, philosophy is not an attribute of the research method; it is an attribute of the philosopher who uses it (Baskerville, 1991).

In his appendix on Doctoral Action Research, Kock introduces us to some of the issues confronting student use of the approach. For me, these issues spring from the limited control that an action researcher can exercise over his/her own research process. Most action research, and especially HCI action research, is sociological in nature. When the context is social, "control" is problematic. Most commonly, action research projects unfold under the shared control by researchers and subjects. Under such shared decision-making, theories that guide the project may change, plans for action may change, and participants may change, all beyond the unilateral control of the researcher. Doctoral researchers (and their directors) have to understand that action research is often problem-centric rather than theory- or question-centric (Avison, Baskerville, & Myers, 2001).

For information systems, action research is increasingly contextualized within Van de Ven's (2007) notion of "Engaged Scholarship" (along with design science), as noted in Munkvold's commentary on Kock's article (in this volume). The original conceptualization of engaged research was as a fifth form of scholarship beyond four other forms: discovery, teaching, application, and integration (Boyer, 1996). In other words, because engaged research is different from discovery research, it is seen as useful only in its humblest sense; as a means for practical problem solving. Van de Ven's work is important because it integrates the scholarship of discovery with engaged scholarship. This integration fits well with the use of action research by scholars.

HCI is often concerned with design. Action research is sometimes mistakenly conflated with design science research  (Järvinen, 2007). After all, "design" (as a verb) is "action". But the paradigms underlying these two research approaches are quite different (Iivari, 2007). While action research is grounded in social psychology (hence centering the human), design science research is grounded in engineering economics (hence centering the artifact, Simon, 1996). For HCI researchers, it is important to recognize when the two approaches are used in isolation, and when these are being integrated. When integrated as a process, the underlying epistemology has to be integrated with the care that Kock's work suggests.
References
Avison, D., Baskerville, R., & Myers, M. (2001). Controlling action research projects. Information Technology and People, 14(1), 28-45.
Baskerville, R. (1991). Practitioner Autonomy and the Bias of Methods and Tools. In H.-E. Nissen, H. K. Klein & R. A. Hirschheim (Eds.), Information Systems research: Contemporary Approaches & Emergent Traditions (pp. 673-698). Amsterdam: North-Holland.
Baskerville, R., & Wood-Harper, A. T. (1998). Diversity in Information Systems Action Research Methods. European Journal of Information Systems, 7(2), 90-107.
Boyer, E. H. (1996). The scholarship of engagement. Journal of Public Service and Outreach, 1, 11-20.
Iivari, J. (2007). A paradigmatic analysis of Information Systems as a design science. Scandinavian Journal of Information Systems, 19(2), 39-63.
Järvinen, P. (2007). Action Research is Similar to Design Science Quality and Quantity 41(1), 37-54.
Simon, H. A. (1996). The Sciences of the Artificial (3rd ed.). Cambridge, Mass.: MIT Press.
Van de Ven, A. H. (2007). Engaged Scholarship: A Guide for Organizational and Social Research. Oxford: Oxford University Press.