Virtuality Continuum
Your constantly-updated definition of Virtuality Continuum and collection of topical content and literature
What is Virtuality Continuum?
The virtuality continuum represents the full spectrum of technological possibilities between the entirely physical world or real environment and the fully digital world or virtual environment. It includes all current technologies that alter reality with computer-generated graphics as well as those yet to be developed.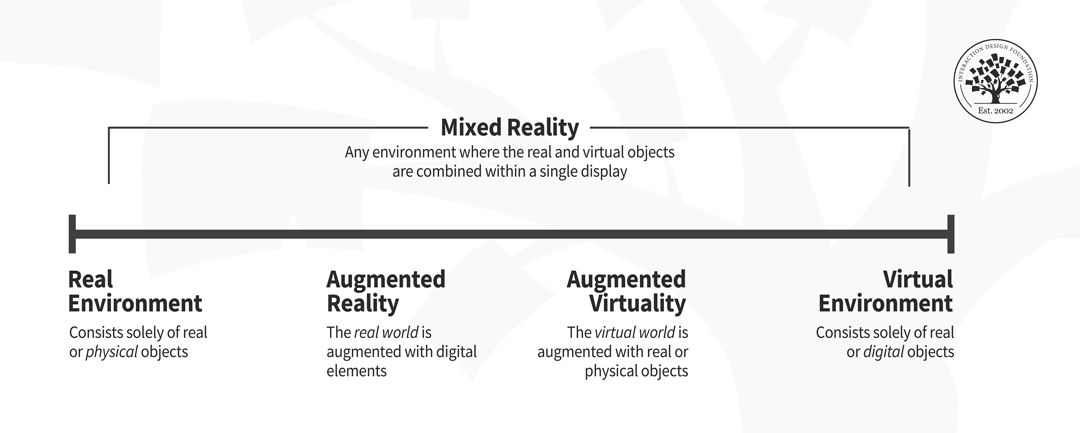 © Laia Tremosa and the Interaction Design Foundation
In a continuum, adjacent parts are almost indistinguishable, but the extremes are very different. Therefore, the exact limits of the various terms are not a hundred percent clear. The term mixed reality covers any environment where the real and virtual objects are combined within a single display. According to this framework, mixed reality covers most of the continuum except for the endpoints. The researchers Paul Milgram and Fumio Kishino first introduced the virtuality continuum or reality-virtuality continuum concept in 1994.
What are the Components of the Virtuality Continuum?
The virtuality continuum, as initially proposed by Milgram and Kishino in 1994, considered only visual displays. Therefore, the different sections within the continuum only take into account the visual aspect of the blending between the physical and digital worlds. This continuum does not take into account sound, smell, haptics or taste.
The virtuality continuum is broken down into four categories:
Real environment: consists solely of real or physical objects. The real environment represents the left end of the virtuality continuum.

Augmented reality: the real world is augmented with digital elements.

Augmented virtuality: the virtual world is augmented by the inclusion of real or physical objects.

Virtual environment: consists solely of digital objects. The virtual environment represents the right end of the virtuality continuum.
It is important not to confuse the virtuality continuum components with the different extended reality (XR) technologies. The virtuality continuum is a theoretical framework. The different sections of the continuum define how many real elements vs. digital elements are displayed, starting from the left end—the real environment—where 100% of what is displayed are real or physical objects and 0% are digital elements versus the right end—the virtual environment—where 100% of the objects displayed are digital and 0% are physical objects.
Limitations of Milgram and Kishino's Virtuality Continuum
Some researchers have stated that the virtual environment, which is considered the right end of this continuum, should be included within the mixed reality definition. They argue that a fully immersive digital environment is unreachable only considering the visual display. Even if the user only sees a digital environment, they would still have the real-world environment physical constraints; for instance, the user won't be able to move freely if there is a physical wall in front of them, even if there is no wall in the virtual world they are immersed in. Also, they would be able to taste food or smell a flower. 
Many revised versions of Milgram and Kishino's virtuality continuum have been developed to include the notion of a user and to include all senses. However, there is no new universally accepted standard yet.   
Learn More about the Virtuality Continuum
Learn how to design your own XR experiences with our course: How to Design for Augmented and Virtual Reality.
Watch the How To Influence Behavior Through Virtual Reality Narratives on-demand Master Class by VR pioneer Mel Slater.
To see new revisions of the virtuality continuum, read this paper: Skarbez, R., Smith, M., & Whitton, M. (2021). Revisiting Milgram and Kishino's Reality-Virtuality Continuum. Frontiers In Virtual Reality, 2. doi: 10.3389/frvir.2021.647997
Literature on Virtuality Continuum
Here's the entire UX literature on Virtuality Continuum by the Interaction Design Foundation, collated in one place:
Learn more about Virtuality Continuum
Take a deep dive into Virtuality Continuum with our course Design Thinking: The Ultimate Guide .
Some of the world's leading brands, such as Apple, Google, Samsung, and General Electric, have rapidly adopted the design thinking approach, and design thinking is being taught at leading universities around the world, including Stanford d.school, Harvard, and MIT. What is design thinking, and why is it so popular and effective?
Design Thinking is not exclusive to designers—all great innovators in literature, art, music, science, engineering and business have practiced it. So, why call it Design Thinking? Well, that's because design work processes help us systematically extract, teach, learn and apply human-centered techniques to solve problems in a creative and innovative way—in our designs, businesses, countries and lives. And that's what makes it so special.
The overall goal of this design thinking course is to help you design better products, services, processes, strategies, spaces, architecture, and experiences. Design thinking helps you and your team develop practical and innovative solutions for your problems. It is a human-focused, prototype-driven, innovative design process. Through this course, you will develop a solid understanding of the fundamental phases and methods in design thinking, and you will learn how to implement your newfound knowledge in your professional work life. We will give you lots of examples; we will go into case studies, videos, and other useful material, all of which will help you dive further into design thinking. In fact, this course also includes exclusive video content that we've produced in partnership with design leaders like Alan Dix, William Hudson and Frank Spillers!
This course contains a series of practical exercises that build on one another to create a complete design thinking project. The exercises are optional, but you'll get invaluable hands-on experience with the methods you encounter in this course if you complete them, because they will teach you to take your first steps as a design thinking practitioner. What's equally important is you can use your work as a case study for your portfolio to showcase your abilities to future employers! A portfolio is essential if you want to step into or move ahead in a career in the world of human-centered design.
Design thinking methods and strategies belong at every level of the design process. However, design thinking is not an exclusive property of designers—all great innovators in literature, art, music, science, engineering, and business have practiced it. What's special about design thinking is that designers and designers' work processes can help us systematically extract, teach, learn, and apply these human-centered techniques in solving problems in a creative and innovative way—in our designs, in our businesses, in our countries, and in our lives.
That means that design thinking is not only for designers but also for creative employees, freelancers, and business leaders. It's for anyone who seeks to infuse an approach to innovation that is powerful, effective and broadly accessible, one that can be integrated into every level of an organization, product, or service so as to drive new alternatives for businesses and society.
You earn a verifiable and industry-trusted Course Certificate once you complete the course. You can highlight them on your resume, CV, LinkedIn profile or your website.
All Literature