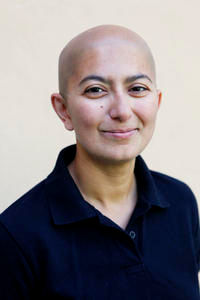 Author: Zayera Khan
Zayera is an expert in usability, interface design, design strategy, and customer experience. She has helped organizations in the telecommunications, CPG, and utilities sectors transform their Web sites by creating a future vision for their online presence and providing cross-industry views of online best practices. Zayera has published and written on Customer Experience and Usability themes at Forrester Research. Her work experience includes working as customer cxperience Analyst at Forrester Reasearch, usability consultant and interaction designer for Swisscom Fixnet, Cambridge Technology Partners, and Unamite. Zayera has interaction design and usability experience in the areas of the Web, IPTV, and mobile interfaces. She has also conducted research in the fields of eLearning and human-robot interaction. Zayera has a master's in interaction design from Malmo University, Sweden, and a bachelor's degree in cognitive science from the University of Skovde, Sweden.
Publications
Publication period start: 1997
Number of co-authors: 1
Co-authors
Number of publications with favourite co-authors
Productive Colleagues
Most productive colleagues in number of publications
Publications
Khan, Zayera (1997). Attitudes towards intelligent service robots. IPLAB, KTH http://iplab.nada.kth.se/personView.jsp?userName=zayera
Khan, Zayera, Schar, Sissel Guttormsen (2003): Learning Objects: the question of \"to be or not to be\"?. In: Proceedings of IFIP INTERACT03: Human-Computer Interaction , 2003, Zurich, Switzerland. pp. 439.
Khan, Zayera (2007). The VoIP Customer Experience: Work In Progress. Retrieved -0001-11-30 00:00:00 from Forrester Research: https://www.forrester.com/Research/Document/Excerpt/0,7211,41315,00.html
Khan, Zayera (2007). European Mobile Operators\' Cross-Channel Experience, 2007. Retrieved -0001-11-30 00:00:00 from Forrester Research: https://www.forrester.com/Research/Document/Excerpt/0,7211,42302,00.html
Khan, Zayera (2007). Young Consumers Don\'t Just Wanna Have Fun Online. Retrieved -0001-11-30 00:00:00 from Forrester Research: https://www.forrester.com/Research/Document/Excerpt/0,7211,41399,00.html
Khan, Zayera (2006). Do You \"Remember Me\"?. Retrieved -0001-11-30 00:00:00 from Forrester Research: https://www.forrester.com/Research/Document/Excerpt/0,7211,40658,00.html