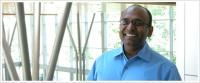 Author: Surya Vanka
Principal Manager
Manager of User Experience Excellence, Microsoft Corporatioon A 9-year veteran of Microsoft, Surya Vanka is Senior Manager of User Experience Excellence, and oversees best practices and engineering standards to create high-quality user experiences for Microsoft's customers. Uesr experience innovation happens daily at Microsoft. But with more than 300 enginnering teams and 600 user experience professionals spread across the world in groups from 2 to 40, it\'s up to Surya and his team to capture the best of these innovations and make them widely available. Surya\'s mission is put the users rather than technology at the center of the development process for all of Microsoft\'s products. Surya was professor of design at University of Illinois at Urbana-Champaign, and was a Fellow at the prestigious Center for Advanced Study. He is the author of two books on design, has lectured on design in over 20 countries, and published widely. His work has appeared in numerous publications including Form, ID Magazine, WIRED, Interactions, BBC Radio, National Public Radio, and Channel 15 Television. He is the recipient of several awards including best practice awards at Microsoft, an accessibility achievement award, Sloan Foundation Award and an IDSA best paper award.
Publications
Publication period start: 1990
Number of co-authors: 1
Co-authors
Number of publications with favourite co-authors
Productive Colleagues
Most productive colleagues in number of publications
Publications
Vanka, Surya (1990). A Methodology for Cross-cultural Semantic Design. Ohio State University http://rave.ohiolink.edu/etdc/view?acc_num=osu1170343983
Vanka, Surya, Klein, David (1995): ColorTool: An Information Tool for Cross-Cultural Design. In: Proceedings of the Human Factors and Ergonomics Society 39th Annual Meeting , 1995, . pp. 341-345.