Robert S. McCann
Ph.D.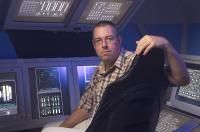 Personal Homepage

http://www.myspace.com/whabbear

Employer

NASA (http://www.nasa.gov)

Email
Robert S. McCann is a research psychologist and human factors engineer at NASA Ames Research Center, Moffett Field, California. His professional interests include the study of attentional limitations on human performance and the design and test of crew-vehicle interfaces for next-generation spacecraft. He has authored or co-authored over 60 professional publications which have been cited in over 500 peer-reviewed journal articles. In his spare time, Dr McCann enjoys tennis, blogging about topics in astronomy and space science, and the Lone Star Saloon in San Francisco.
Publication Statistics
Publication period start

1993

Publication period end

2000

Number of co-authors

10
Co-authors
Number of publications with favourite co-authors
Productive Colleagues
Most productive colleagues in number of publications
Publications