Pascal Fares
Eng.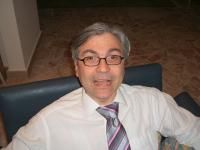 Personal Homepage

http://www.cofares.net/

Employer

ISAE & MEHE (Ministry of education and higher education) (http://www.mehe.gov.lb/)

Email
Computer science department president since 1996 . IT/ICT/IS Consultant . Open source integrator
Publication Statistics
Publication period start

1988

Publication period end

1988

Number of co-authors

2
Co-authors
Number of publications with favourite co-authors
Productive Colleagues
Most productive colleagues in number of publications
Publications
Tueni, Michel, Li, Jianzhong, Fares, Pascal (1988): AMS: A Knowledge-Based Approach to Tasks Representation, Organization and Coordination. In: Allen, Robert (eds.) Proceedings of the Conference on Office Information Systems 1988 March 23-25, 1988, Palo Alto, California, USA. pp. 78-87.