Nicholas Negroponte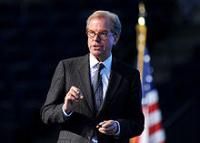 Nicholas Negroponte is an American architect best known as the founder and Chairman Emeritus of Massachusetts Institute of Technology's Media Lab, and also known as the founder of the One Laptop per Child Association (OLPC).
Publication Statistics
Publication period start

1977

Publication period end

1996

Number of co-authors

0
Co-authors
Number of publications with favourite co-authors
Productive Colleagues
Most productive colleagues in number of publications
Publications
Negroponte, Nicholas (1996): Books Without Pages. In ACM SIGDOC *Journal of Computer Documentation, 20 (3) pp. 1-8.
Negroponte, Nicholas (1989): An Iconoclastic View Beyond the Desktop Metaphor. In International Journal of Human-Computer Interaction, 1 (1) pp. 109-113.
Negroponte, Nicholas (1977): Raster scan approaches to computer graphics. In Computers & Graphics, 2 (3) pp. 179-193. http://dx.doi.org/10.1016/0097-8493(77)90041-3
Negroponte, Nicholas (1996): Being Digital, Vintage,