Author: Morgan Schramm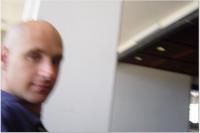 Morgan Schramm
Mr. Schramm resides in Portland OR, and works as an Imaging Engineer for HP. His contributions are primarily in the area of Color and Image Enhancement technology for HP's consumer printing and digital entertainment products. He received his Masters degree in Computer Science from the University of Oregon in 1995 where he focused on modeling and simulating the interaction of light with complex surfaces. He previously worked for National Semiconductor in Sunnyvale California after receiving his BS in Computer engineering from the University of California at Santa Barbara (1991).
Publications
Publication period start: 1997
Publication period end: 2006
Number of co-authors: 4
Co-authors
Number of publications with favourite co-authors
1

1

2
Productive Colleagues
Most productive colleagues in number of publications
2

2

2
Publications
Schramm, Morgan, Gondek, Jay, Meyer, Gary (1997): Light scattering simulations using complex subsurface models. In: Graphics Interface 97 May 21-23, 1997, Kelowna, British Columbia, Canada. pp. 56-67.
Zhang, Buyue, Allebach, Jan, Gondek, Jay, Schramm, Morgan (2006): Improved Resolution Synthesis Algorithm for Image Interpolation. In: IS&Ts NIP22: International Conference on Digital Printing Technologies September 17, 2006, Denver, Colorado. pp. 343-345. http://imaging.org/store/epub.cfm?abstrid=34087