Mohammad Alsuraihi
BSc, MSc, Ph.D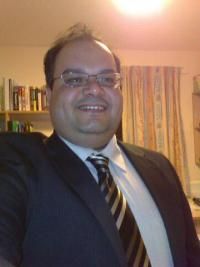 Personal Homepage

Employer

University of Taiba (http://www.taibahu.edu.sa/index.htm)

Email
Dr. Mohammad Alsuraihi pursued a postgraduate career first in the University of Newcastle, Newcastle upon Tyne, UK (where an MSc in Computer Science was obtained), and later in the University of Bradford, Bradford, UK (where a PhD in Software Engineering was obtained). On completion of his PhD, Dr. Alsuraihi joined the University of Taiba in Saudi Arabia as an assistant professor.
Publication Statistics
Publication period start

2007

Publication period end

2008

Number of co-authors

2
Co-authors
Number of publications with favourite co-authors
Productive Colleagues
Most productive colleagues in number of publications
Publications
Alsuraihi, Mohammad, Rigas, Dimitris (2008): Speech Displaces the Graphical Crowd. In Journal of Computers, 3 (6) pp. 47-58. http://www.academypublisher.com/jcp/vol03/no06/jcp03064758.html
Alsuraihi, Mohammad, Rigas, Dimitris (2007): Efficiency of Speech Recognition for Using Interface Design Environments by Novel Designer. In: Proceedings of the 7th WSEAS International Conference on Applied Informatics and Communications , 2007, Athens, Greece. pp. 154-159. http://portal.acm.org/citation.cfm?id=1348038&dl=ACM&coll=portal
Alsuraihi, Mohammad, Rigas, Dimitris I. (2007): Efficiency of Experienced Use of Multimodal Interaction Metaphors for Interface Design. In: Proceedings of the IADIS International Conference on Interfaces and Human Computer Interaction 2007 , 2007, Lisbon, Portugal.
Rigas, Dimitris, Alsuraihi, Mohammad (2007): A Toolkit for Multimodal Interface Design: An Empirical Investigation. In Lecture Notes in Computer Science, 4552 (0) pp. 196-205. http://www.springerlink.com/content/837371626228267g/