Mark H. Chignell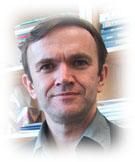 Personal Homepage

Employer

()

Email
Publication Statistics
Publication period start

1987

Publication period end

2007

Number of co-authors

10
Co-authors
Number of publications with favourite co-authors
Productive Colleagues
Most productive colleagues in number of publications
Publications
Wang, Hua, Yang, Jie, Chignell, Mark H., Ishizuka, Mitsuru (2007): Character Agents in E-Learning Interface Using Multimodal Real-Time Interaction. In: Jacko, Julie A. (eds.) HCI International 2007 - 12th International Conference - Part III , 2007, . pp. 225-231. http://dx.doi.org/10.1007/978-3-540-73110-8_24
Wang, Hua, Chignell, Mark H., Ishizuka, Mitsuru (2006): Empathic tutoring software agents using real-time eye tracking. In: Räihä, Kari-Jouko, Duchowski, Andrew T. (eds.) ETRA 2006 - Proceedings of the Eye Tracking Research and Application Symposium March 27-29, 2006, San Diego, California, USA. pp. 73-78. http://doi.acm.org/10.1145/1117309.1117346
Mizobuchi, Sachi, Chignell, Mark H., Newton, David (2005): Mobile text entry: relationship between walking speed and text input task difficulty. In: Tscheligi, Manfred, Bernhaupt, Regina, Mihalic, Kristijan (eds.) Proceedings of the 7th Conference on Human-Computer Interaction with Mobile Devices and Services - Mobile HCI 2005 September 19-22, 2005, Salzburg, Austria. pp. 122-128. http://doi.acm.org/10.1145/1085777.1085798
Zhao, Shengdong, McGuffin, Michael J., Chignell, Mark H. (2005): Elastic Hierarchies: Combining Treemaps and Node-Link Diagrams. In: InfoVis 2005 - IEEE Symposium on Information Visualization 23-25 October, 2005, Minneapolis, MN, USA. pp. 8. http://doi.ieeecomputersociety.org/10.1109/INFOVIS.2005.12
Modjeska, David, Chignell, Mark H. (2003): Individual Differences in Exploration Using Desktop VR. In JASIST - Journal of the American Society for Information Science and Technology, 54 (3) pp. 216-228. http://dx.doi.org/10.1002/asi.10197
Zhang, Xiangmin, Chignell, Mark H. (2001): Assessment of the effects of user characteristics on mental models of information retrieva. In JASIST - Journal of the American Society for Information Science and Technology, 52 (6) pp. 445-459.
Singh, Gurminder, Chignell, Mark H. (1992): Components of the visual computer: a review of relevant technologies. In The Visual Computer, 9 (3) pp. 115-142. http://
Chignell, Mark H. (1987): Computer Interfaces for the Humanities. In: Salvendy, Gavriel (eds.) HCI International 1987 - Proceedings of the Second International Conference on Human-Computer Interaction - Volume 2 August 10-14, 1987, Honolulu, Hawaii. pp. 273-280.