Maria Normark
Ph.D.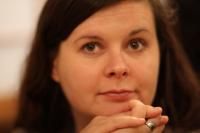 Personal Homepage

Employer

Mobile Life Centre and Sodertorn University ()

Email
Maria Normark is a senior lecturer in media technology since 2006. Normark holds a 3-year VinnMER Fellowship and will during this period be a visiting researcher at Mobile Life VINN Excellent Centre i Kista. The theme for her project at Mobile Life is 'Nomadic Interaction Models'. Her current main interests are collaboration in practice, design quality and norm-critical design in several domains; youth counseling online, museums, sustainable lifestyle and design education.

Earlier she studied collaboration and technology in use in relation to controll rooms, such as air traffic control and ambulance dispatch. Normark's thesis came in 2005 and was titled Work and Technology Use in Centers of Coordination: Reflections on the relationship between situated practice and artifact design. It was defended at the Royal Institute of Technology (KTH) in Stockholm.
Publication Statistics
Publication period start

1999

Publication period end

2012

Number of co-authors

9
Co-authors
Number of publications with favourite co-authors
Productive Colleagues
Most productive colleagues in number of publications
Publications
Tholander, Jakob, Ståhl, Anna, Jacobsson, Mattias, Schultz, Lisen, Borgstrom, Sara, Normark, Maria, Kosmack-Vaara, Elsa (2012): But i don't trust my friends: ecofriends -- an application for reflective grocery shopping. In: Proceedings of the 14th Conference on Human-computer interaction with mobile devices and services , 2012, . pp. 143-146. http://dx.doi.org/10.1145/2371574.2371596
Westerlund, Markus, Normark, Maria, Holmquist, Lars Erik (2011): Express location: supporting coordination of mobile delivery work. In: Proceedings of ACM CSCW11 Conference on Computer-Supported Cooperative Work , 2011, . pp. 729-732. http://dx.doi.org/10.1145/1958824.1958956
Normark, Maria (2004): Open Audio/Video Links as Means for Coordination - Two Case Studies. In: HICSS 2004 , 2004, . http://csdl.computer.org/comp/proceedings/hicss/2004/2056/01/205610020babs.htm
Normark, Maria (2002): Sense-making of an emergency call: possibilities and constraints of a computerized case fi. In: Proceedings of the Second Nordic Conference on Human-Computer Interaction October 19-23, 2002, Aarhus, Denmark. pp. 81-90. http://doi.acm.org/10.1145/572020.572031
Normark, Maria (2000): Coordination through Focused Media Spaces. In: Proceedings of the First Nordic Conference on Human-Computer Interaction , 2000, .
Berndtsson, Johan, Normark, Maria (1999): The Coordinative Functions of Flight Strips: Air Traffic Control Work Revisited. In: Proceedings of the International ACM SIGGROUP Conference on Supporting Group Work 1999 November 14-17, 1999, Phoenix, Arizona, USA. pp. 101-110. http://www.acm.org/pubs/articles/proceedings/cscw/320297/p101-berndtsson/p101-berndtsson.pdf