Malcolm McCullough
Ph.D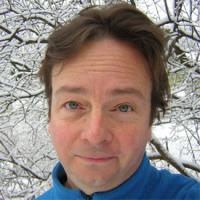 Personal Homepage

http://www-personal.umich.edu/~mmmc/

Employer

University of Michigan (http://www.umich.edu/)

Email

mmmc@umich.edu
Malcolm McCullough is an associate professor of architecture at Taubman College of Architecture and Urban Planning at the University of Michigan, where he teaches architecture and media arts. McCullough is the author of three widely read books on digital design: Digital Ground (2004), Abstracting Craft (1996), and Digital Design Media (1991, with William Mitchell). He is currently at work on a book about attention and ambient information, (Ambient Commons, MIT Press, 2012). Prior to joining Taubman College in 2001, McCullough taught at Carnegie Mellon University, and for ten years at Harvard Graduate School of Design. As his writings are often used in design teaching, McCullough has given invited lectures in more than 15 countries.
Publication Statistics
Publication period start

2000

Publication period end

2001

Number of co-authors

0
Co-authors
Number of publications with favourite co-authors
Productive Colleagues
Most productive colleagues in number of publications
Publications
McCullough, Malcolm (2001): On Typologies of Situated Interaction. In Human-Computer Interaction, 16 (2) pp. 337-349.
McCullough, Malcolm (2000): Wrapping Up: Commentary on DIS 2000. In: Proceedings of DIS00: Designing Interactive Systems: Processes, Practices, Methods, & Techniques , 2000, . pp. 6. http://www.acm.org/pubs/articles/proceedings/chi/347642/p6-mccullough/p6-mccullough.pdf
McCullough, Malcolm (2005): Digital Ground: Architecture, Pervasive Computing, and Environmental Knowing, The MIT Press,
McCullough, Malcolm (2004): Digital Ground: Architecture, Pervasive Computing, and Environmental Knowing, The MIT Press,