M. V. Ananthakrishnan
MSc., Ph.D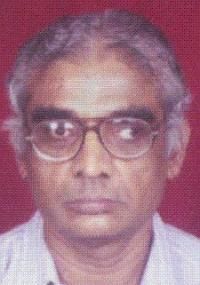 Personal Homepage

Employer

Independent Consultant & Educator ()

Email
M.Sc (1966) and PhD (1979) in Physics, RanchiUniversity, India.

Lecturer in the Physics Department of the Birla Institute of Technology, Ranchi (1966-68); Assistant Training Officer, Science of Materials, National Institute of Foundry & Forge Technology, Ranchi (1968-74); Assistant Professor, General Management Group, National Institute of Industrial Engineering (NITIE), Mumbai with special emphasis on Educational Technology (1974-84); Tata Consultancy Services Limited (TCS) in various roles and capacities (Corporate Training, Instructional Resources Development, Computer-based Courseware design & development, e-learning courseware design & development) until his retirement as a Senior Consultant (1984-2004).

A member of the TCS team that pioneered the CBFL (Computer-based Functional Literacy) initiative for adult illiterates and covered Indian Languages like Telugu, Hindi, Tamil, Bengali, Marathi, Oriya and Gujarati for a target population in the age group of 25-70.

Dr. Ananthakrishnan was with KReSIT, IIT Bombay from October 2004 to August 2007and successfully completed projects on (a) Educating nomadic children in the state of Maharashtra in India and (b) Creating a multimodal repository for Rural Schools. During September 2007, he worked as an Advisor to Media Lab Asia, Department of Information Technology, Govt. of India.

Dr. Ananthakrishnan is a Senior Member of IEEE (USA). and has done considerable research and innovation and published over 65 Conference/journal papers in India & abroad in the areas of Science Education, Science-Technology Interaction, Institution-Industry collaboration, Educational Media Design & development, Curriculum development, Instructional Resources Design & Development, Computer-based & e-learning courseware design & development, Faculty Development, Human-computer Interaction, Use of ICT for educating Nomadic children in Maharashtra, creating repositories, creating localized content, designing interactive programmes and Multimedia solutions to teaching adult illiterates.

Dr. Ananthakrishnan has been on Selection Committees to
(a) Select B.E. students for admission to Post Graduate Programmes in Industrial Engineering
(b) Recruit fresh engineering graduates and experiences professionals as software professionals in Tata Consultancy Services
(c) Recruit Faculty for Engineering Colleges in Mumbai
(d) Recruit research staff for Projects in IIT Bombay

Dr. Ananthakrishnan is a visiting faculty to educational institutions and industrial houses around the country. The areas covered include Communication & Presentation Skills, Facing Interviews, HCI and ICT applications in business and industry.

Dr. Ananthakrishnan is included in the "Who is Who in the World 2008", brought out by Marquis Who's Who Publication Board, USA.


Dr. Ananthakrishnan
(a) is a Gold Medalist in M.Sc (Physics)
(b) was a member of the TCS Team that won the Asian Corporate Social Responsibility Award in Bangkok in 2002 and
(c) was the Project Manager of the IIT Bombay group that won the UNESCO ICT Awards for Non-formal Education in Bangkok in June 2008.
Publication Statistics
Publication period start

2001

Publication period end

2001

Number of co-authors

0
Co-authors
Number of publications with favourite co-authors
Productive Colleagues
Most productive colleagues in number of publications
Publications