Linda E. Sibert
Ph.D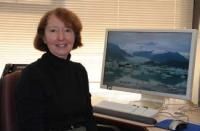 Personal Homepage

Employer

Naval Research Laboratory (http://www.nrl.navy.mil/)

Email

sibert@itd.nrl.navy.mil
Linda E. Sibert is a computer scientist for the Immersive
Simulation Section in the Information Technology Division.
She has over 25 years of experience in the development and
evaluation of novel interaction techniques and user interfaces, the last 20 at NRL. Her work includes research into the control structure of handheld input devices, the design and evaluation of an eye tracking interface for command and control, the evaluation of a virtual reality mission rehearsal system for shipboard firefighting, and most recently, the development and testing of user interfaces for training simulators for the Marine Corps. Ms. Sibert is active in the field of human-computer interaction. She was treasurer of Association of Computing Machinery's User Interface Software and Technology (UIST) conference for many years, is an active reviewer, and has published numerous articles and papers. Ms. Sibert received an A.B. in English from Wittenberg University in 1970, and an M.S. in computer science from George Washington University in 1988.
Publication Statistics
Publication period start

1992

Publication period end

2007

Number of co-authors

9
Co-authors
Number of publications with favourite co-authors
Productive Colleagues
Most productive colleagues in number of publications
Publications
Templeman, James N., Sibert, Linda E., Page, Robert C., Denbrook, Patricia S. (2007): Pointman - A New Control for Simulating Tactical Infantry Movements. In: Sherman, William R., Lin, Ming C., Steed, Anthony (eds.) IEEE Virtual Reality Conference, VR 2007 10-14 March, 2007, Charlotte, NC, USA. pp. 285-286. http://doi.ieeecomputersociety.org/10.1109/VR.2007.352504
Sibert, Linda E., Jacob, Robert J. K. (2000): Evaluation of Eye Gaze Interaction. In: Turner, Thea, Szwillus, Gerd, Czerwinski, Mary, Peterno, Fabio, Pemberton, Steven (eds.) Proceedings of the ACM CHI 2000 Human Factors in Computing Systems Conference April 1-6, 2000, The Hague, The Netherlands. pp. 281-288. http://www.acm.org/pubs/articles/proceedings/chi/332040/p281-sibert/p281-sibert.pdf
Templeman, James N., Denbrook, Patricia S., Sibert, Linda E. (1999): Virtual Locomotion: Walking in Place through Virtual Environments. In Presence: Teleoperators and Virtual Environments, 8 (6) pp. 598-617.
Tate, David L., Sibert, Linda E., King, Tony (1997): Using Virtual Environments to Train Firefighters. In IEEE Computer Graphics and Applications, 17 (6) pp. 23-29. http://doi.ieeecomputersociety.org/10.1109/38.626965
Jacob, Robert J. K., Sibert, Linda E., McFarlane, Daniel C., Mullen, M. P. (1994): Integrality and Separability of Input Devices. In ACM Transactions on Computer-Human Interaction, 1 (0) pp. 3-26.
Jacob, Robert J. K., Sibert, Linda E., McFarlane, Daniel C., Mullen Jr, M. Preston (1994): Integrality and Separability of Input Devices. In ACM Transactions on Computer-Human Interaction, 1 (1) pp. 3-26. http://www.acm.org/pubs/articles/journals/tochi/1994-1-1/p3-jacob/p3-jacob.pdf
Jacob, Robert J. K., Sibert, Linda E. (1992): The Perceptual Structure of Multidimensional Input Device Selection. In: Bauersfeld, Penny, Bennett, John, Lynch, Gene (eds.) Proceedings of the ACM CHI 92 Human Factors in Computing Systems Conference June 3-7, 1992, Monterey, California. pp. 211-218. http://www.acm.org/pubs/articles/proceedings/chi/142750/p211-jacob/p211-jacob.pdf