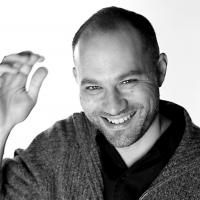 Author: Kristian T. Simsarian
Kristian Simsarian is currently a co-leader of the Software Experiences (SX) practice at IDEO. Kristian joined IDEO in 2000, coming from a background in Human-Computer Interaction and Computer-Supported Collaborative Work. Currently he works in the area of human factors, usability, and interaction design in the San Francisco office.
Before IDEO, Kristian was doing research and development in the area of people and technology for over fifteen years. Most recently he was at the Swedish Institute of Computer Science in Stockholm, an institute focused on basic and cutting-edge research for the computer and telecommunication industries.
Kristian received his BS in Computer Science from the School of Engineering and Applied Science at Columbia University. He worked as a researcher in biotechnology at the Public Health Research Institute in New York. He then joined the graduate program in the Computer Science department at the University of Virginia on a fellowship where he received his MS in Computer Vision and Mobile Robotics. He continued his work in computer vision and computer graphics in the Artificial Intelligence Department at Edinburgh University, and then came to the University of Chicago as a lecturer and graduate student.
Kristian completed his PhD work in March 2000 at the Computer Vision and Active Perception lab of the Royal Institute of Technology with a thesis focused on the user-centered design of a teleoperation system for Human-Robot Collaboration. Simultaneously to his thesis work, Kristian was the senior researcher in the LACE group at the Swedish Institute of Computer Science (SICS). Kristian's research focus at SICS was on developing new forms of spatial interaction such as new-media narrative tools developed for and with children and teachers as well as in the electronic arts.
Publications
Publication period start: 1999
Number of co-authors: 1
Co-authors
Number of publications with favourite co-authors
Productive Colleagues
Most productive colleagues in number of publications
Publications
Škesson, Karl-Petter, Simsarian, Kristian T. (1999): Reality portals. In: VRST 1999 , 1999, . pp. 11-18. https://doi.acm.org/10.1145/323663.323665