Kai-Mikael Jää-Aro
Ph.D.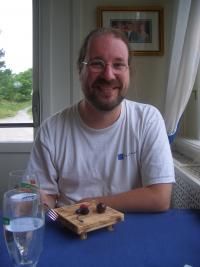 Personal Homepage

Employer

Telestream AB (http://www.telestream.net/)

Email
After research work in computer-supported collaborative work in virtual environments and scientific perceptualisation, Jää-Aro now works in private industry.
Publication Statistics
Publication period start

1995

Publication period end

1997

Number of co-authors

2
Co-authors
Number of publications with favourite co-authors
Productive Colleagues
Most productive colleagues in number of publications
Publications
Jää-Aro, Kai-Mikael, Snowdon, Dave (1997): Retaining Body Language in Subjective Virtual Environments Using Artifact-Centred Coordina. In: HICSS 1997 , 1997, . pp. 646-652. http://csdl.computer.org/comp/proceedings/hicss/1997/7734/01/7734010646abs.htm
Carlsson, Christer, Jää-Aro, Kai-Mikael (1995): The Dive Laboratory. In Presence: Teleoperators and Virtual Environments, 4 (4) pp. 431-440.
Jää-Aro, Kai-Mikael (1993): An Overview of Virtual Reality Research in the Nordic Countries. In: "Virtual Realities: An Anthology of Industry and Culture" Gijutsu Hyoron Sha .
Jää-Aro, Kai-Mikael (2004): Reconsidering the avatar: From user mirror to interaction locus, Royal Institute of Technology,