Jun-Heng Yeh
Ph.D Candidate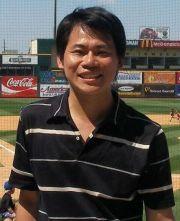 Personal Homepage

http://homepage.ttu.edu.tw/d9306002/

Employer

()

Email
Jun-Heng Yeh is currently a Ph.D. Candidate, in Dept. of Computer Science and Engineering, Tatung University, Taipei, Taiwan, R.O.C. His research interests include speech signal processing, digital image processing and affective computing. Now he participates in several research projects related to emotion recognition from speech signals, brand emotions and sea surface salinity satellite image processing.
Publication Statistics
Publication period start

2005

Publication period end

2008

Number of co-authors

7
Co-authors
Number of publications with favourite co-authors
Productive Colleagues
Most productive colleagues in number of publications
Publications
Pao, Tsang-Long, Yeh, Jun-Heng (2008): Typhoon Locating and Reconstruction from the Infrared Satellite Cloud Image. In Journal of Multimedia, 3 (2) pp. 45-51. http://www.academypublisher.com/jmm/vol03/no02/jmm03024551.html
Pao, Tsang-Long, Chen, Yu-Te, Yeh, Jun-Heng, Cheng, Yun-Maw, Chien, Charles S. (2007): Feature Combination for Better Differentiating Anger from Neutral in Mandarin Emotional Speech. In: "Affective Computing and Intelligent Interaction, Lecture Notes in Computer Science, Vol. 4738" Springer Verlag .
Cheng, Yun-Maw, Kuo, Yue-Sun, Yeh, Jun-Heng, Chen, Yu-Te, Pao, Tsang-Long, Chien, Charles S. (2006): Using Recognition of Emotions in Speech to Better Understand Brand Slogans. In: Deng, Li (eds.) Proceedings of the 8th International Workshop on Multimedia Signal Processing October 3-6, 2006, Victoria, Canada. pp. 238-242.
Pao, Tsang-Long, Chen, Yu-Te, Yeh, Jun-Heng, Cheng, Yun-Maw, Lin, Yu-Yuan (2007): A Comparative Study of Different Weighting Schemes on KNN-Based Emotion Recognition in Mandarin Speech. In: "Advanced Intelligent Computing Theories and Applications. With Aspects of Theoretical and Methodological Issues" Springer Verlag .
Pao, Tsang-Long, Chen, Yu-Te, Yeh, Jun-Heng, Liao, Wen-Yuan (2005): Combining Acoustic Features for Improved Emotion Recognition in Mandarin Speech. In: Tao, Jianhua, Tan, Tieniu, Picard, Rosalind W. (eds.) ACII 2005 - Affective Computing and Intelligent Interaction, First International Conference October 22-24, 2005, Beijing, China. pp. 279-285. http://dx.doi.org/10.1007/11573548_36
Pao, Tsang-Long, Chen, Yu-Te, Yeh, Jun-Heng, Cheng, Yun-Maw, Chien, Charles S. (2007): Feature Combination for Better Differentiating Anger from Neutral in Mandarin Emotional Sp. In: Paiva, Ana, Prada, Rui, Picard, Rosalind W. (eds.) ACII 2007 - Affective Computing and Intelligent Interaction, Second International Conference September 12-14, 2007, Lisbon, Portugal. pp. 741-742. http://dx.doi.org/10.1007/978-3-540-74889-2_77