Howard Rheingold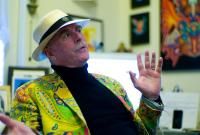 Howard Rheingold (born July 7, 1947) is a critic, writer, and teacher; his specialties are on the cultural, social and political implications of modern communication media such as the Internet, mobile telephony and virtual communities (a term he is credited with inventing).
Publication Statistics
Publication period start

1998

Publication period end

1998

Number of co-authors

4
Co-authors
Number of publications with favourite co-authors
Productive Colleagues
Most productive colleagues in number of publications
Publications
Kiesler, Sara, Kraut, Robert E., Donath, Judith S., Wellman, Barry, Rheingold, Howard (1998): An Internet Paradox: A Social Medium That May Undermine Sociability. In: Poltrock, Steven, Grudin, Jonathan (eds.) Proceedings of the 1998 ACM conference on Computer supported cooperative work November 14 - 18, 1998, Seattle, Washington, United States. pp. 403-404. http://www.acm.org/pubs/articles/proceedings/cscw/289444/p403-kiesler/p403-kiesler.pdf
Rheingold, Howard (2000): Tools for Thought -- The History and Future of Mind-Expanding Technology, MIT Press,
Rheingold, Howard (1993): The Virtual Community: Homesteading on the Electronic Frontier, The MIT Press,
Rheingold, Howard (1994): A slice of life in my virtual community. In: "Global Netorks: Computers and International Communication" MIT Press .