Erik L Olson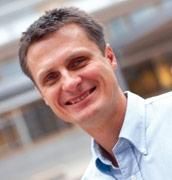 Professor Olson received in Ph.D. in marketing from Case Western Reserve University in Cleveland, Ohio with a dissertation titled "Computer-assisted decision aids in difficult decision environments: Factors which enhance the probability of decision errors and decision impact error impact on subjective evaluations of the decision aid."

Managerial and consumer decision making implications have continued to be featured in much of his research in a broad array of areas including marketing communication effectiveness, branding, and product innovation.

Professor Olson's research has been featured in many conferences and journals including the European Journal of Marketing, Journal of the Academy of Marketing Science, Journal of Advertising, Journal of Business Research, Journal of Interactive Marketing, and Journal of Product Innovation Management.

As Associate Professor at BI, he has been instrumental in the development of the course content in the graduate and undergraduate marketing programs during several terms as program coordinator and associate dean and as developer/instructor for over 20 individual courses. Olson has also done two stints as visiting professor of marketing at the Melbourne Business School in Australia.
Publication Statistics
Publication period start

2001

Publication period end

2001

Number of co-authors

1
Co-authors
Number of publications with favourite co-authors
Productive Colleagues
Most productive colleagues in number of publications
Publications