Elpiniki I. Papageorgiou
Dr.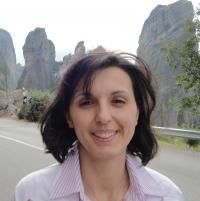 Personal Homepage

http://users.teilam.gr/~epapageorgiou

Employer

(http://Technological Educational Institute of Lamia)

Email
Elpiniki Papageorgiou, was born in Larisa (Greece) in 1975. She obtained her Physics degree in 1997 and a M.Sc. degree in Medical Physics in 2000 both from the University of Patras. She holds a Ph.D degree in Computer Science from the Department of Electrical and Computer Engineering from July 2004 from the same University. From 2004 to 2006, she was a postdoctoral researcher at Department of Electrical and Computer Engineering and her research was related with the development of new models and methodologies based on Soft Computing for complex diagnosis systems and medical decision support systems. From 2000 to 2006, she has been involved in a number of European funded research projects with the Laboratory of Automation & Robotics, Dept. of Electrical and Computer Engineering in the framework of IST, GROWTH and IMS as well as in other national research projects (EPEAEK). Her main activities were the development of innovative learning algorithms for fuzzy cognitive maps and intelligent expert systems for medical diagnosis and decision making tasks. From 2004 to 2005, she was appointed as Lecturer at the Dept. of Electrical and Computer Engineering of University of Patras. Currently she is an adjunct Assistant Professor at the Dept. of Informatics with applications in Biomedicine of University of Central Greece, and since September 2004, she is an Assistant Professor at Department of Informatics and Computer Technology, Technological Education Institute of Lamia, Greece. Since September 2006, she is a s senior member of Intelligent Vision Innovations and Biomedical Systems (IVIBIS) group at the Centre of Technological Research of Central Greece located also in Lamia, Greece. Dr. Elpiniki Papageorgiou, is author and co-author of more than 40 journals and conference papers, book chapters and technical reports. Her research interests include expert systems, intelligent algorithms and computational intelligence techniques, soft computing methods, intelligent systems for medical diagnosis, decision support systems and artificial intelligence techniques for medical applications.
Publication Statistics
Publication period start

2006

Publication period end

2006

Number of co-authors

4
Co-authors
Number of publications with favourite co-authors
Productive Colleagues
Most productive colleagues in number of publications
Publications
Papageorgiou, Elpiniki I., Stylios, Chrysostomos, Groumpos, Peter P. (2006): Unsupervised learning techniques for fine-tuning fuzzy cognitive map causal links. In International Journal of Human-Computer Studies, 64 (8) pp. 727-743. http://dx.doi.org/10.1016/j.ijhcs.2006.02.009
Papageorgiou, Elpiniki I., Chrysostomos, Stylios, Groumpos, Petros (2008): The Soft Computing Technique of Fuzzy Cognitive Maps for Decision Making in Radiotherapy. In: "Intelligent and Adaptive Systems in Medicine" IOPs .