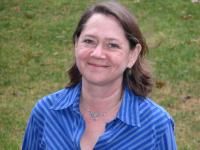 Author: Elizabeth Rosenzweig
Publications
Publication period start: 1993
Number of co-authors: 3
Co-authors
Number of publications with favourite co-authors
Productive Colleagues
Most productive colleagues in number of publications
1

7

37
Publications
Selker, Ted, Rosenzweig, Elizabeth, Pandolfo, Anna (2007): Reply to Comments on "A Methodology for Testing Voting Systems. In Journal of Usability Studies, 2 (2) pp. 99-101. https://www.upassoc.org/upa_publications/jus/2007_february/reply_to_comments_on_methodology_for_testing_voting_systems.pdf
Rosenzweig, Elizabeth (2006): World Usability Day: A Challenge for Everyone. In Journal of Usability Studies, 1 (4) pp. 151-155. https://www.upassoc.org/upa_publications/jus/2006_august/rosenzweig_wud_challenge.pdf
Rosenzweig, Elizabeth, Ziff, Joel D. (2003): Managing interdisciplinary relationships: lessons learned from the field. In Interactions, 10 (6) pp. 20-27.
Rosenzweig, Elizabeth (1996): Design Guidelines for Software Products: A Common Look and Feel or a Fantasy?. In Interactions, 3 (5) pp. 21-26. https://www.acm.org/pubs/articles/journals/interactions/1996-3-5/p21-rosenzweig/p21-rosenzweig.pdf
Rosenzweig, Elizabeth (1993): A Usability Laboratory for Electronic Imaging: Collaboration Between Developers and Users. In: Proceedings of the Fifth International Conference on Human-Computer Interaction - Poster Sessions: Abridged Proceedings , 1993, . pp. 215.