Author: Elhanan Gazit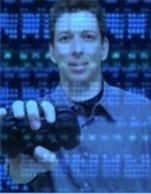 Elhanan Gazit
Dr. Hanan Gazit (VRider) serves as the Israeli DIGRA Chapter ,, promoting the DIGRA\'s vision and the use of virtual worlds and digital games for instruction, learning & business in all sectors. Dr. Gazit is a researcher and a lecturer at H.I.T-Holon Institute of Technology, Israel.
Research interests:
* Interactions and social networks in virtual worlds and digital games. * Design effective serious games. * Measuring skill acquisition and Virtual-Real World transfer. * Using computerized tools for analyzing interactions.
Selected publications:
Selected publications: * Gazit, E. (in press). A window on digital games interactions in home settings. Handbook of Research on Effective Electronic Gaming in Education. IGI Global Press. * Gazit, E., Yair, Y., & Chen, D. (2006). The gain and pain in taking the pilot seat: Learning dynamics in a non immersive virtual solar system, Virtual Reality, 10 (3-4), 271-282. * Gazit, E., Yair, Y., & Chen, D. (2006). Emerging Conceptual Understanding of Complex Astronomical Phenomena by Using a Virtual Solar System, Journal of Science Education and Technology, 14 (5-6), 459 - 470. * Gazit, E. & Chen, D. (2003). Using the observer to explore learning within virtual worlds. Behavior Research Methods, Instruments and Computers, 35 (3), 400-407.
Selected invited presentations:
* Gazit, E. (2008). The challenge of studying interactions in virtual worlds. Virtual Worlds workshop. The IDC Herzliya, 18th of Januray 2008, Herzliya, Israel. * Gazit, E. (2007). Virtual Worlds: The next big thing or the biggest Web 2.0 bubble? Amdocs high-tech Company Event , 27st of November, 2007 Raanana, Israel. * Gazit, E. (2007). Mobile Games: Big lessons from small screens research-Pervasive Games and the importance of Soundscape in future mobile games design. The Mobile Games Convention "Bringing fun to the Masses", 16th of September, Tel-Aviv University, Israel. Gazit, E. (2007). Serious Games - Opportunity outside the consumer markets. The IDC-CEMA Analysts Conference on Gaming, 5th of February, 2007, Tel-Aviv. Israel.
http://www.digraisrael.org
Publications
Publication period start: 2006
Publication period end: 2006
Number of co-authors: 2
Co-authors
Number of publications with favourite co-authors
1

1
Productive Colleagues
Most productive colleagues in number of publications
1

14
Publications
Gazit, Elhanan, Yair, Yoav, Chen, David (2006): The gain and pain in taking the pilot seat: learning dynamics in a non immersive virtual s. In Virtual Reality, 10 (3) pp. 271-282. http://dx.doi.org/10.1007/s10055-006-0053-3