Author: Douglas L. Baldwin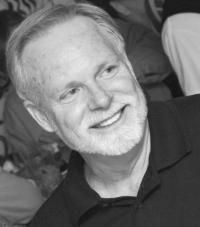 Douglas L. Baldwin
In December, 2012, I created a blog that I call "Bugs, Blindness and the Pursuit of Happiness." The blog was set up so that I could interview presenters at the IEEE conference, as well as begin a dialogue concerning wearable computing devices for children in special education.
The initial series of blog posts reflects my first interview--a three-day series of discussions with my friend and colleague, Daniel Kish. Daniel, who is CEO of the non-profit organization World Access for the Blind, is presenting at the IEEE conference. In 2004, I began a collaboration with Daniel to explore wearable computer solutions for the blind. Our two agencies sponsored the first World Congress on Blind Navigation Technologies, held at the NFB Jernigan Institute (Baltimore) in October, 2005.
Currently, Daniel and I are collaborating on his memoir--a book which will combine reflections on his life expriences with the freedom he gains from using and teaching echolocation as a navigation technique.
The blog can be accessed from my home page wayfinding.net
I spent the majority of my professional career working with handicapped children at the Millet Learning Center in Saginaw, Michigan, and occasionally with elderly blind individuals through the Michigan Commission for the blind.
In 1982 I founded the Special Needs Vision Clinic at Millet--a non-profit United Way/ Lions International Center for handicapped children, low vision individuals, and seniors. The clinic also serves indigent populations.
In addition, I am the founder and former director of The Institute for Innovative Blind Navigation (IIBN), which I established in 1997 and ran in Saginaw until 2009. Through a grant with NEC Foundation of America, IIBN put on four regional seminars between 2000 and 2002, called "Advances in Wayfinding Technology". These seminars were held in Michigan, California, Washington, and Florida.
On a community level, I co-founded "The John Moore Community of Tomorrow School" in Saginaw to help an inner-city elementary school form partnerships that resulted in the reorganization and re-energizing of the school. These partnerships lasted until redistricting closed the school in 2004.
My most lasting contribution is a community-based education program for the Saginaw Intermediate School District, which I created in the early 1980s and still help direct. The community travel program annually serves about 50 students, mostly physically impaired children in wheelchairs, but also including deaf/blind, blind, perceptually impaired, and deaf students. The program uses principles from my orientation and mobility curriculum to teach navigationally impaired students; thus involvement in the program is not limited to blind students.
My formal education includes the following: a Doctor of Optometry degree from the Illinois College of Optometry in Chicago, a BA in Visual Science, and an MA in Blind Rehabilitation from Western Michigan University.
My passions and interests are focused in the areas of neuropsychology of vision, child development, international blindness, human navigation and orientation, and the impact of technology on education. While I retired in 2007, I continue to work part-time and stay involved in studying current trends in my field.
http://wayfinding.net