Douglas L. Baldwin
O.D.; M.A.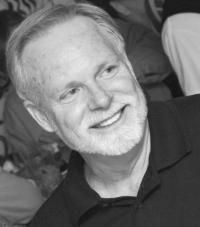 Personal Homepage

http://wayfinding.net

Employer

()

Email
In December, 2012, I created a blog that I call "Bugs, Blindness and the Pursuit of Happiness." The blog was set up so that I could interview presenters at the IEEE conference, as well as begin a dialogue concerning wearable computing devices for children in special education.
The initial series of blog posts reflects my first interview--a three-day series of discussions with my friend and colleague, Daniel Kish. Daniel, who is CEO of the non-profit organization World Access for the Blind, is presenting at the IEEE conference. In 2004, I began a collaboration with Daniel to explore wearable computer solutions for the blind. Our two agencies sponsored the first World Congress on Blind Navigation Technologies, held at the NFB Jernigan Institute (Baltimore) in October, 2005.
Currently, Daniel and I are collaborating on his memoir--a book which will combine reflections on his life expriences with the freedom he gains from using and teaching echolocation as a navigation technique.
The blog can be accessed from my home page wayfinding.net
I spent the majority of my professional career working with handicapped children at the Millet Learning Center in Saginaw, Michigan, and occasionally with elderly blind individuals through the Michigan Commission for the blind.
In 1982 I founded the Special Needs Vision Clinic at Millet--a non-profit United Way/ Lions International Center for handicapped children, low vision individuals, and seniors. The clinic also serves indigent populations.
In addition, I am the founder and former director of The Institute for Innovative Blind Navigation (IIBN), which I established in 1997 and ran in Saginaw until 2009. Through a grant with NEC Foundation of America, IIBN put on four regional seminars between 2000 and 2002, called "Advances in Wayfinding Technology". These seminars were held in Michigan, California, Washington, and Florida.
On a community level, I co-founded "The John Moore Community of Tomorrow School" in Saginaw to help an inner-city elementary school form partnerships that resulted in the reorganization and re-energizing of the school. These partnerships lasted until redistricting closed the school in 2004.
My most lasting contribution is a community-based education program for the Saginaw Intermediate School District, which I created in the early 1980s and still help direct. The community travel program annually serves about 50 students, mostly physically impaired children in wheelchairs, but also including deaf/blind, blind, perceptually impaired, and deaf students. The program uses principles from my orientation and mobility curriculum to teach navigationally impaired students; thus involvement in the program is not limited to blind students.
My formal education includes the following: a Doctor of Optometry degree from the Illinois College of Optometry in Chicago, a BA in Visual Science, and an MA in Blind Rehabilitation from Western Michigan University.
My passions and interests are focused in the areas of neuropsychology of vision, child development, international blindness, human navigation and orientation, and the impact of technology on education. While I retired in 2007, I continue to work part-time and stay involved in studying current trends in my field.
Publication Statistics
Publication period start

9223372036854775807

Publication period end

0

Number of co-authors

0
Co-authors
Number of publications with favourite co-authors
Productive Colleagues
Most productive colleagues in number of publications
Publications
Baldwin, Douglas L.

23.11

Commentary by Douglas L. Baldwin

Steve Mann provided the vision for a new kind of digital professional; a practitioner capable of prescribing alternative perception. Like any doctor, these specialists would use diagnostic tools to arrive at a diagnosis, from which tailored prescriptions would arise.

After working for over thirty years in special education, as the founder of a vision clinic for children with special needs, and as the founder of a non-profit institute that brought sophisticated navigational technologies to blind and visually impaired kids, it is clear to me that digital perception is a revolution waiting to happen in rehabilitation and special education.

In 2010, I was approached by the X-Prize Foundation to contribute to a proposal concerning portable devices that would benefit the blind, incorporating high technologies into i-pads, cell phones; handheld systems. I knew that these handheld tools were already on the market, or soon to be. I also knew that they would be short of the vision that Steve Mann laid down years ago. There would be no concept of humanistic intelligence, no Eyetap putting sensory input where the brain was expecting to receive it (on the face at eye level), and no attention would be focused toward special education where tailored solutions were the only answer to the needs of unique children.

The list of potential remediations available to the digital perception specialist is extraordinary. I will list five that were outlined for the X Prize-Foundation report. Digital perception specialists will work with the whole body, but my focus is on the potential of what Steve calls Electric Glasses; Eyetap technology that can place computer altered images on the retina in real time.
The brain can be directly impacted by electromagnetic variables that alter perception and consciousness. Hemi-synchronization (a sound wave technology) combined with light wave therapies (blue spectrum for wakefulness, and to counter seasonal affective disorder), for example, has the potential to alter mood, affect energy, and assist the evolution of consciousness for individuals.
Disabilities, like autism and visual impairment, could be affected (theoretically) by placing laser input on the retina that is augmented, diminished, and/or mediated. For example, stimulating central while inhibiting peripheral vision (and the opposite), or emphasizing left field stimulation while inhibiting right field (or reverse) could significantly alter behavior patterns. Cashing input and then slowing it down or speeding it up is a method for determining how altering frame rate affects individual processing and memory storage (i.e. behavior). Enriching or reducing input directly to visual quadrants, hemi-fields, or the whole retina could benefit many people with processing and sensory disabilities.
The entire field of optics will eventually give way to digital image capture and realtime alteration of images reaching the retina. Steve recognizes this when he speaks of downloading visual prescriptions. This switch to digital diagnosis and remediation is a revolution for eye doctors, and eventually portends the demise of the optical industry. Prescriptions will be altered to fit environmental demands in real time, as the environment changes.
The visually impaired and blind populations are handicapped not only by sensory loss, but also by a stark, silent environment. Daniel Kish, CEO of World Access for the Blind, says that blind individuals could navigate the environment as fluidly as the sighted if there was adequate signage available. Kish says that the world is designed to help the sighted navigate. If the environment was smarter (as it could be) and if this smart environment was networked with Steve Mann's Smart Eyeglasses, the blind could navigate without assistance.
Facebook is the beginning of hive brain. Eventually, with molecular implants, hive brain (social networking) will become a reality. In the meantime, Steve Mann's Electric Glasses are an intermediate step, where social networking is at face level. You could look out the eyes of your friends; in a way, become them as their sounds and sights are beamed directly into your perception.
These five examples are entirely possible now. The revolution is overdue. Google's internet glasses may be the door that brings this one step closer to reality. The military has long been working on land warrior goggles. Both Google and the military (and others) have been secret for a long time as these technologies evolved. The Lion is about to be let out of the cage.
My concern remains: Who will transform these technologies into tools that will revolutionize special education and rehabilitation?