Douglas C. Engelbart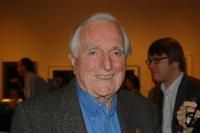 Personal Homepage

Employer

()

Email
Douglas Carl Engelbart (born January 30, 1925) is an American inventor and early computer pioneer. He is best known for inventing the computer mouse, as a pioneer of human-computer interaction whose team developed hypertext, networked computers, and precursors to GUIs; and as a committed and vocal proponent of the development and use of computers and networks to help cope with the world's increasingly urgent and complex problems.
Publication Statistics
Publication period start

1962

Publication period end

2006

Number of co-authors

10
Co-authors
Number of publications with favourite co-authors
Productive Colleagues
Most productive colleagues in number of publications
Publications
Engelbart, Douglas C., Kim, Eugene E. (2006): The augmented Wiki. In: Proceedings of the 2006 International Symposium on Wikis , 2006, . pp. 11-12. http://ws2006.wikisym.org/space/Invited+Talk%3e%3eThe+Augmented+Wiki Wiki Page
Engelbart, Douglas C. (2004): Augmenting society\'s collective IQs. In: Proceedings of the Fifteenth ACM Conference on Hypertext , 2004, . pp. 1. http://doi.acm.org/10.1145/1012807.1012809
Bieber, Michael, Hiltz, Starr Roxanne, Stohr, Edward A., Engelbart, Douglas C., Noll, John, Turoff, Murray, Furuta, Richard, Preece, Jennifer J., Walle, Bartel Van de (2001): Virtual Community Knowledge Evolution. In: HICSS 2001 , 2001, . http://csdl.computer.org/comp/proceedings/hicss/2001/0981/08/09818003abs.htm
Engelbart, Douglas C. (1995): Toward Augmenting the Human Intellect and Boosting our Collective IQ. In Communications of the ACM, 38 (8) pp. 30-33.
Engelbart, Douglas C. (1990): Knowledge-Domain Interoperability and an Open Hyperdocument System. In: Halasz, Frank (eds.) Proceedings of the 1990 ACM conference on Computer-supported cooperative work October 07 - 10, 1990, Los Angeles, California, United States. pp. 143-156.
Engelbart, Douglas C. (1962). Augmenting human intellect: A conceptual framework (AFOSR-3233 Summary Report, SRI Project. AFOSR, Stanford Research Institute http://www.liquidinformation.org/engelbart/62_paper_full.pdf
Engelbart, Douglas C., English, William K. (0): A Research Center for Augmenting Human Intellect. 0 (0) pp. . http://sloan.stanford.edu/mousesite/Archive/ResearchCenter1968/ResearchCenter1968.html