Clark McPhail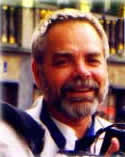 Personal Homepage

http://www.soc.uiuc.edu/people/cmcphail

Employer

()

Email
Clark  McPhail

Professor

Office: 339 Lincoln Hall

Phone: (217) 333-2528

Email: cmcphail@illinois.edu

Field of Study: Collective Action, Social Movements, Social
Psychology

PhD: Michigan State University

Clark McPhail uses systematic observations, surveys,
experiments, computer simulations and archival data to study
individual and collective action in public spaces, religious
gatherings, sporting events, political demonstrations and
urban riots. His current research - THE COLLECTIVE ACTION
PROJECT- has been supported by a series of grants from the
National Science Foundation to Clark and his co-principal
investigator John McCarthy (Pennsylvania State University.
They have examined selection and description bias in mass
media reports of demonstrations in Washington, DC and in
Minsk Belarus (with Professor Larissa Titarenko). They have
studied trends in public order policing in the U.S., with
recent attention to the policing of campus protest and
convivial gathering disorders. With David Schweingruber
(Iowa State University) and Alin Ceobanu (University of
Florida) Clark has studied the 30+ year campaign of the March
for Life in Washington, DC, and more recently, a systematic
observation study of the dynamics and complexity of
collective action during the nine hour Promise Keeper rally
of a half-million persons on the National Mall in Washigton,
DC, October 1997. Papers reporting this research are listed
in Clark\'s ABBREVIATED CURRICULUM VITA on his website.
login=cmcphail&type=faculty\">http://www.soc.uiuc.edu/people/cmcphail/
login=cmcphail&type=faculty
Clark McPhail is now:
Professor Emeritus
Dept of Sociology
U. of Illinois, Urbana-Champaign
Publication Statistics
Publication period start

1999

Publication period end

1999

Number of co-authors

2
Co-authors
Number of publications with favourite co-authors
Productive Colleagues
Most productive colleagues in number of publications
Publications
Tucker, Charles, Schweingruber, David, McPhail, Clark (1999): Simulating Arcs and Rings in Gatherings. In International Journal of Human-Computer Studies, 50 (6) pp. 581-588.