Chris Rourke
CEO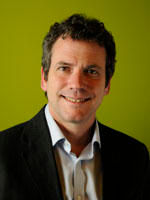 Personal Homepage

http://www.uservision.co.uk

Employer

UserVision (http://www.uservision.co.uk/)

Email

Chris@uservision.co.uk
Chris Rourke is Managing Director & Founder of UserVision.co.uk. Chris has over 20 years commercial experience in usability, accessibility, human factors consultancy and training. He has worked with a range of clients including Hewlett Packard, Dell Computers, NCR, Houses of Parliament, Emirates Airline, DirectGov and many other commercial and public sector clients in the UK and abroad. His particular user experience interests include web accessibility, the application of Rich Internet Applications such as AJAX and Flex, remote usability testing, eye tracking and persuasion architecture.

Chris is Founder and Past President of the Scottish Chapter of the Usability Professionals' Association and the UPA's regional coordinator for Europe. He is a member of various professional organisations, including the British Human-Computer Interaction Group (BHCIG), and the Computers and Human Interaction Group of the Association for Computing Machinery (ACM-SIGCHI).

Chris is a Board Member of ScotlandIS, the trade body for the software, IT and creative technology industries for Scotland. He is also on the Steering Committee for the world's first Master's degree in Design Ethnography at the University of Dundee which is helping train the ethnographers of the future.

Chris holds a BSc. in Engineering Psychology from Tufts University and a MSc. in Ergonomics from the University of Michigan.
Publication Statistics
Publication period start

9223372036854775807

Publication period end

0

Number of co-authors

0
Co-authors
Number of publications with favourite co-authors
Productive Colleagues
Most productive colleagues in number of publications
Publications
Rourke, Chris

22.14

Commentary by Chris Rourke

One of the cruel ironies of the web is that the more information there is on your website, the harder it is to find any one single piece of information.  There is more haystack to sort through to find your needle. Well, that trend is not always true, and you can at least do your best to fight that tendency by doing a very good job of organising it all. Putting things into neat, well labelled groups, and using nested hierarchies will add sense to an otherwise overwhelming mass of information.

In the UX designer's toolbox, Card Sorting is the sharpest tool for creating a sensible hierarchical structure for your information.  Its cousin Tree Testing is the best for checking the robustness of that structure.  Used together they are essential tools for creating a usable information architecture that is the best possible organisation to let people find their information.

William Hudson has earned a reputation as a leading thinker and practitioner in the field of card sorting, and his SynCaps software has proven very useful (and time saving) for capturing and analysing card sorting results for me and many others in the UX field. 

William's Card Sorting chapter is comprehensive and educational, supported by several helpful images and a simple context that all readers will understand - the world of fruit and veg.  With that as the domain, he proceeds to clearly explain
The need for card sorting
The types of dilemmas card sorting planners and participants encounter (e.g. the same fruit called 2 different things)
The process for performing card sorting
Ways to analyse the data
It is the most comprehensible and readable explanation of card sorting I have read, and will be a key learning source (along with Donna Spencer's publication which was also referenced).
In particular it provides excellent visuals to explain the outputs from card sorting.  Thankfully it goes beyond presenting the tree diagram (dendrogram) which unfortunately some practitioners are tempted to take, turn 90 degrees, and exclaim: TaDah! There's my new site map, I'm all done!
More experienced practitioners will know there is a lot more that needs to be done to interpret the tree diagram, and I was especially grateful that he clearly explained that the tree diagram alone does not always tell the clearest story.  For instance an item that could have strong affinities to two distinct groups could end up having an apparently moderate weak relationship to them, if the tested people were split down the middle on which they associated it with.  It is a clear case where good old fashioned qualitative information from talking to people is needed to make the best decision.
In my experience, how to moderate the sessions is important and can impact the results. For instance one tip I often employ (which is helpful in the situation described above where a card has two or more natural homes) is to ask the participant to place the printed card for the item where they feel it belongs most, but if they feel that it could very comfortably fit into other groups, they can take a blank card, write that item name on it, and place it in other groups they expect it could be. All copies of the card would be processed during data capture, with SynCaps V2 splitting the item between the selected groups. As William mentions, dendrograms only support a single location for each item but the split will be apparent in the items by items and items by groups charts. The split results can be considered by the practitioner in the development of the Information Architecture, perhaps as decent locations for cross links (such as 'see more' type links that take the visitor to related content in other sections).
Another moderating point to consider is the amount of verbal feedback the person is to provide during the session.  The core UX method of usability testing relies on a verbal stream of consciousness from the participant as they go through their journey on a website.  Personally, I feel that is not appropriate for card sorting, although I recognise verbal feedback is important, especially for understanding the category names and what items are easy or difficult to sort.  I usually recommend they spread out the cards to get a bird's eye view of what they are to sort, then not disturb the participant as they see the patterns and "get in the zone", creating their own strategy for solving this particular Information Architecture conundrum. Only after they have sorted about half the cards and applied a few labels do I try to intervene with a gentle "how's it going?" type probe.  The moderator should have that 6th sense that a hairdresser ideally has to be able to tell if the participant feels like talking or not, and not to force them to if they don't.  Once all the cards are sorted (perhaps some in a "don't know" pile) then by all means a comprehensive debrief should be encouraged.
William gave some explanation to what I find the hardest part of card sorting – choosing what to sort when your information domain is a website with hundreds of items. Inevitably some consolidating of the items is needed, selecting only 1 or 2 representative items from what is an obviously clear group of wider items. This in itself often ends up being controversial or distracting, and always carries the risk of being used as a reason to play down the results of the card sorting (Oh yes, but you didn't include these 3 items in the sort, it could have been very different if you had...).  
Finally, my preference is always try to apply the top-down method of tree testing (or reverse car sorting, or category testing) to balance the bottom-up method of card sorting. I find tree testing to be at least as useful a method to get clients to see the importance of a good, user-centred information architecture.  After all, the process of tree testing is far more similar to the way people actually forage for information while navigating on a website.  Furthermore the quantitative and statistical data that comes from it is very compelling especially when it can be done before and after a revision to the Information Architecture ("previously this topic was found by 50% of people without any errors, now that is up to 75%"). It can also be done remotely, and other resources in addition to the ones mentioned in the chapter include NaviewApp and UserZoom.  Williams core area is card sorting, but if more could be presented on the top-down method perhaps it could be re-titled Card Sorting and Information Architecture research.
William Hudson's chapter is nonetheless comprehensive and meets the need of those new to card sorting and those with some experience.  It will definitely be a valuable reference to those looking to implement this research to improve their site navigation and Information Architecture.