Appa Rao Korukonda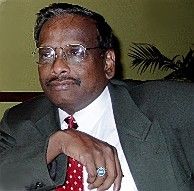 Personal Homepage

http://cob.bloomu.edu/akorukon/

Employer

Bloomsburg University of Pennsylvania (http://www.bloomu.edu)

Email
Dr. Appa Rao Korukonda is Full Professor of Information Systems in the College of Business at Bloomsburg University of Pennsylvania. He holds a Bachelor's degree in Chemical Engineering from Andhra University, a Master's in Management from All India Management Association, and two doctoral degrees---a Ph.D. in Management from Texas Tech University, Lubbock, Texas and a Doctor of Science (D.Sc) in Information Systems and Communications from Robert Morris University, Pittsburgh. The founder-President of Academy of Business & Administrative Sciences, he has about 10 years of corporate managerial experience and has taught at St. Bonaventure University, Texas Tech University, and Helsinki School of Economics and Business & Administration. He has also acted as external examiner for doctoral dissertations in the areas of Management and Management Science and has made numerous presentations at national and international conferences.
Dr. Korukonda has published in such journals as International Journal of Human Computer Studies, Interfaces, Journal of Organization Change Management, Information Science, Group & Organization Studies, International Journal of Quality and Reliability Management, OR/MS Today, International Journal of Production Economics, IBS Computing Quarterly, SAM Advanced Management Journal, and International Journal of Production Research. He has been the recipient of two competitive awards from the United Nations University, Tokyo besides numerous other research grants. His current research interests include Management Information Systems, Organization Theory, Business Ethics, Philosophy of Science, and Artificial Intelligence. He may be contacted at korukonda@gmail.com or at korukonda@hotmail.com.
Publication Statistics
Publication period start

2003

Publication period end

2003

Number of co-authors

0
Co-authors
Number of publications with favourite co-authors
Productive Colleagues
Most productive colleagues in number of publications
Publications
Korukonda, Appa Rao (2003): Taking stock of Turing test: a review, analysis, and appraisal of issues surrounding think. In International Journal of Human-Computer Studies, 58 (2) pp. 240-257.