Anita A. Ferreira-Cabrera
PhD in artificial intelligence from the University of Edinburgh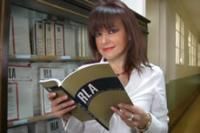 Anita Ferreira is a Professor in the department of Spanish at the Universidad de Concepcion, Chile. Her research interests include intelligent tutorial systems for foreign language, natural- language processing, computer-assisted language learning, Spanish as a second language acquisition, Spanish as a Foreign language Teaching.
Miss Ferreira received a PhD in artificial intelligence from the University of Edinburgh, Scotland, and a PhD in linguistics from the Catholic University of Valparaiso, Chile.
Contact her at aferreir@udec.cl.
Publication Statistics
Publication period start

2005

Publication period end

2005

Number of co-authors

1
Co-authors
Number of publications with favourite co-authors
Productive Colleagues
Most productive colleagues in number of publications
Publications