Alexis Heloir
Dr.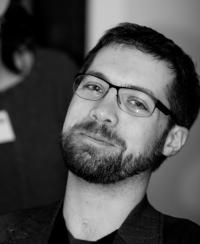 Personal Homepage

http://dfki.de/~heloir

Employer

DFKI (http://www.dfki.de)

Email
Alexis is a post doctorate in the junior research group Embodied Agents (EMBOTS) since April 2008. His main research interests are the analysis and synthesis of plausible human motion and uses of gesture in human-computer interaction.
Publication Statistics
Publication period start

2005

Publication period end

2011

Number of co-authors

6
Co-authors
Number of publications with favourite co-authors
Productive Colleagues
Most productive colleagues in number of publications
Publications
Kipp, Michael, Nguyen, Quan, Heloir, Alexis, Matthes, Silke (2011): Assessing the deaf user perspective on sign language avatars. In: Thirteenth Annual ACM SIGACCESS Conference on Assistive Technologies , 2011, . pp. 107-114. http://dx.doi.org/10.1145/2049536.2049557
Heloir, Alexis, Kipp, Michael (2009): A Realtime Animation Engine for Interactive Embodied Agents. In: Ruttkay, Szofia, Kipp, Michael (eds.) 8th international conference on Intelligent Virtual Agents September, 2009, Amsterdam. pp. 393-404.
Heloir, Alexis, Kipp, Michael, Gibet, Sylvie, Courty, Nicolas (2008): Evaluating Data-Driven Style Transformation for Gesturing Embodied Agents. In: Prendinger, Helmut, Lester, James C., Ishizuka, Mitsuru (eds.) IVA 2008 - Intelligent Virtual Agents - 8th International Conference September 1-3, 2008, Tokyo, Japan. pp. 215-222. http://dx.doi.org/10.1007/978-3-540-85483-8_22
Heloir, Alexis, Gibet, Sylvie (2007): A Qualitative and Quantitative Characterisation of Style in Sign Language Gestures. In: Dias, José Miguel Salles, Gibet, Sylvie (eds.) Proceedings of the Sixrg International Gesture Workshop May 23-25, 2007, Lisbon, Portugal. pp. 122-133. http://www.springerlink.com/content/vu5151l801876008/
Heloir, Alexis, Courty, Nicolas (2006): Temporal alignment of communicative gesture sequences. In Computer Animation and Virtual Worlds, 17 (3) pp. 347-357. http://www3.interscience.wiley.com/journal/112653628/abstract?CRETRY=1&SRETRY=0
Heloir, Alexis, Courty, Nicolas, Gibet, Sylvie, Multon, Franck (2006): Temporal alignment of communicative gesture sequences. In Journal of Visualization and Computer Animation, 17 (3) pp. 347-357. http://dx.doi.org/10.1002/cav.138
Heloir, Alexis, Gibet, Sylvie (2005): Captured Motion Data Processing for Real Time Synthesis of Sign Language. In: Gibet, Sylvie, Courty, Nicolas (eds.) Proceedings of the Fifth International Gesture Workshop May 18-20, 2005, Berder, France. pp. 122-133. http://www.springerlink.com/content/vu5151l801876008/