Nick S. Ryan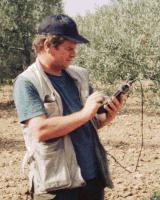 Personal Homepage

Employer

University of Kent ()

Email
I work on mobile and ubiquitous systems and, from time to time, on visualization and description of ancient environments. My mobile work is centred on location and context-awareness, particularly in field sciences.
Publication Statistics
Publication period start

9223372036854775807

Publication period end

0

Number of co-authors

2
Co-authors
Number of publications with favourite co-authors
Productive Colleagues
Most productive colleagues in number of publications
Publications
Ryan, Nick S., Pascoe, Jason, Morse, David R. (1998): Enhanced Reality Fieldwork: the Context-aware Archaeological Assistant. In: "Computer Applications in Archaeology - British Archaeological Reports" Tempus Reparatum .