M. Herczeg
Prof. Dr.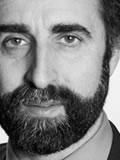 Personal Homepage

http://www.imis.uni-luebeck.de/herczeg/index.html

Employer

University of Luebeck, Germany (http://www.uni-luebeck.de)

Email

Michael Herczeg was born in 1956. He studied computer science at the University of Stuttgart in Germany. He received his doctorate in the area of systems architectures for human-computer-interaction. He had several lead positions in software and systems development in the telecommunication industry. 1996 he has been associate professor for human-computer-interaction and software engineering at the University of Applied Sciences in Gelsenkirchen, Germany. Since 1997 he has a full professorship at the University of Luebeck, Germany where he is the founder and director of the Institute for Multimedia and Interactive Systems (IMIS) and a founder of the International School of New Media (ISNM). He has been founder and co-chair of the German ACM SIGCHI and Human-Computer-Interaction section of the German Informatics Society GI. Michael Herczeg is a member of ACM, IEEE, AAAI, AACE and GI. He has been author and editor of many publications as well as consultant in the area of human-computer-interaction, human factors, usability engineering, e-learning and safety-critical human-machine-systems.

Publication Statistics
Publication period start

9223372036854775807

Publication period end

0

Number of co-authors

0
Co-authors
Number of publications with favourite co-authors
Productive Colleagues
Most productive colleagues in number of publications
Publications