Portfolio Power-Up: Real Clients, Real Projects, and IxDF Expert Insights
Jun 1st, 2023
6:00pm - 7:00pm (UTC -05:00)
Online, https://examity.zoom.us/j/98352696552?pwd=TThLZEl5My9UMS9NMGo3bFB4akYrQT09, Chicago, IL
15 IxDF Members (and some non-members) are attending
Save the meet-up to calendar
Meet-Up Details
Join us for a groundbreaking design event like no other! NOD Agency, in alliance with IxDF Chicago, proudly presents an exclusive design challenge just for IxDF members. This isn't merely a contest—it's an extraordinary opportunity to apply your creative ideas to real-world scenarios.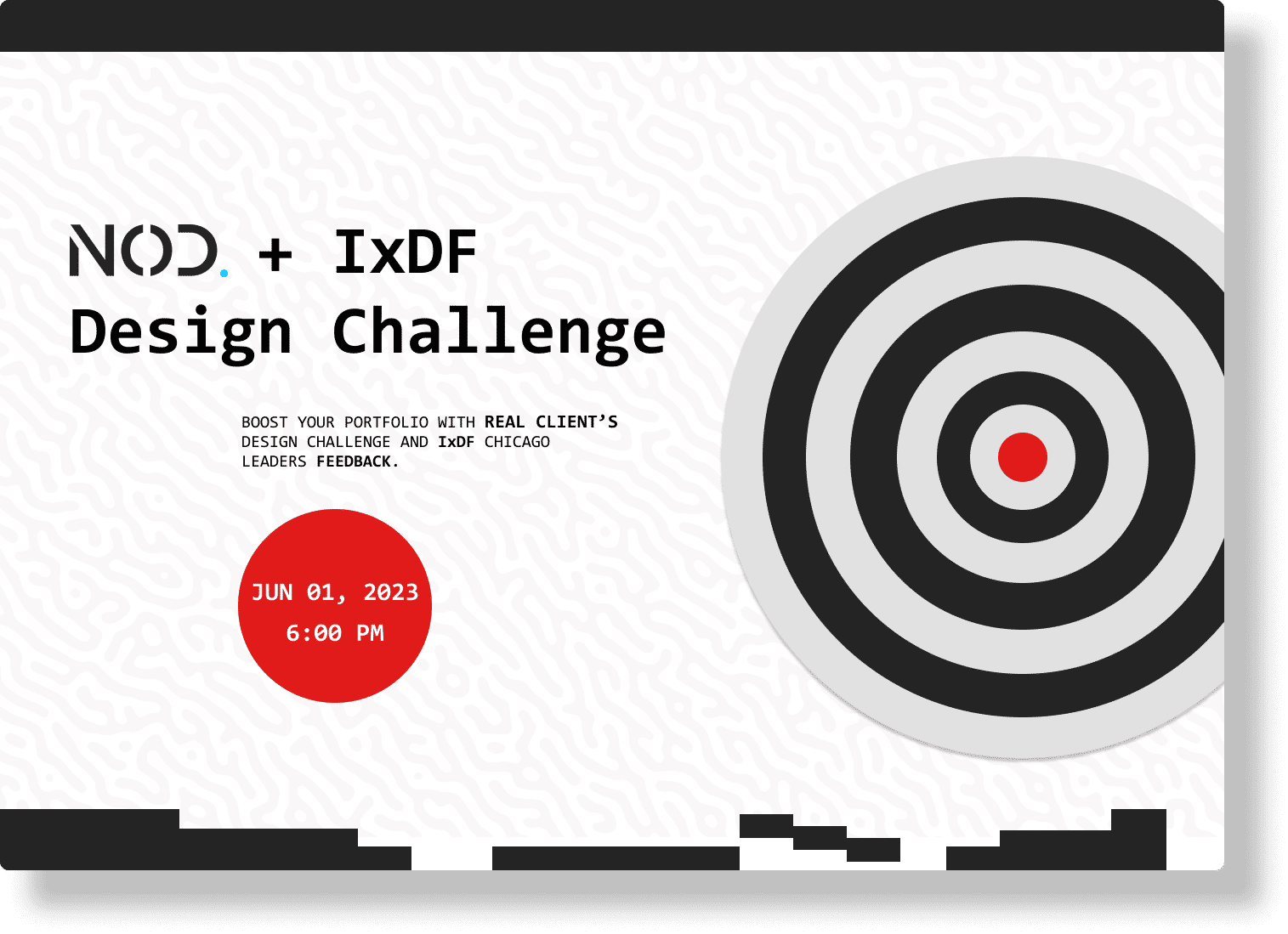 © Interaction Design Foundation, CC BY-SA 4.0
Visualize working on a live project, transforming your design theories into tangible results for a genuine client. This isn't a hypothetical exercise—we're offering a real-world application of your skills. Going a step further, your work will be thoroughly reviewed and critiqued by the leaders of IxDF Chicago.
What could be more enriching than enhancing your portfolio with a project grounded in practical experience and endorsed by industry credentials? We provide a platform where your design endeavors are not only fostered but celebrated, scrutinized, and honed. Your completed project, emblematic of your skills and determination, will stand out as a noteworthy addition to your professional portfolio.
This design challenge also creates avenues for networking with a vibrant community of like-minded IxDF members and industry professionals. Engage, learn, and expand within a community that echoes your passion and ambition.
The "NOD Agency x IxDF Chicago Design Challenge" is more than just a competition—it's a springboard for boosting your portfolio through real-world client experience, valuable feedback from seasoned UX professionals, and the promotion of your work on Behance, all under the prestigious banners of IxDF and NOD. Join us and seize this extraordinary opportunity to shine, grow, and most importantly, innovate. We eagerly anticipate witnessing the unique creativity you'll bring to the table!

Meeting link: https://examity.zoom.us/j/98352696552?pwd=TThLZEl5My9UMS9NMGo3bFB4akYrQT09
Local Leaders of IxDF Chicago