Jelle Stienstra
Msc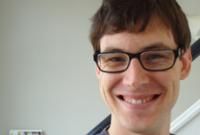 Personal Homepage

Employer

Eindhoven University of Technology (http://www.tue.nl)

Email

j.t.stienstra@tue.nl
Jelle (J.T.) Stienstra MSc. graduated cum laude in January 2010 at the master course Industrial Design, Eindhoven University of Technology. His master project focused on accessing high- level complexity through our embodied action possibilities. This was done by providing an interaction layer exploiting advantages of discrete and continuous of both system and human in an alternative smart-phone operating system. Since 2012, Jelle is appointed by the Interaction Design Area, University of Siena to conduct his PhD research in collaboration with the Designing Quality in Interaction group. His PhD concerns mapping the continuous of our being to the discrete of computing. An exploration for the consequences of a phenomenological approach on designing for the aesthetics of interaction in complex products and systems.
Publication Statistics
Publication period start

2011

Publication period end

2012

Number of co-authors

5
Co-authors
Number of publications with favourite co-authors
Productive Colleagues
Most productive colleagues in number of publications
Publications
Stienstra, Jelle, Marti, Patrizia (2012): Squeeze Me: Gently Please. In: Proceedings of the 7th Nordic Conference on Human-Computer Interaction NordiCHI 2012 October 14-17, 2012, Copenhagen, Denmark. pp. 746-750.
Stienstra, Jelle, Overbeeke, Kees, Wensveen, Stephan (2011): Embodying Complexity through Movement Sonification: Case Study on Empowering the Speed-ska. In: Overbeeke, Kees (eds.) CHItaly Proceedings of the 9th ACM SIGCHI Italian Chapter International Conference on Computer-Human Interaction Facing Complexity , 2011, . pp. 39-44. http://dl.acm.org/citation.cfm?id=2037296.2037310&coll=DL&dl=GUIDE&CFID=63361848&CFTOKEN=58905943
Stienstra, Jelle, Overbeeke, Kees, Wensveen, Stephan (2011): There is More in a Single Touch: Mapping the Continuous to the Discrete. In: Overbeeke, Kees (eds.) CHItaly Proceedings of the 9th ACM SIGCHI Italian Chapter International Conference on Computer-Human Interaction Facing Complexity , 2011, . pp. 27-32. http://dl.acm.org/citation.cfm?id=2037307&dl=ACM&coll=DL&CFID=63361848&CFTOKEN=58905943
Douglas, Ian, Liu, Zhengjie., Stienstra, Jelle, Overbeeke, Kees (2011): Global Usability, Springer,