You worked on an amazing UX project. You documented every detail and deliverable and when the time came, you began to write a UX case study about it. In the case study, you highlighted how you worked through a Design Thinking process to get to the end result; so, can you stop there and now move on to the next thing? Well, no! There's just one more bit left to finish up and make the perfect case study. So, get ready; we will now explore how you can write the perfect conclusion to wrap it all up and leave a lasting great impression.
Every start has an end – we're not just repeating the famous quote here, because for case studies, a proper end is your last and final chance to leave a lasting great (at the very least, good) impression with whoever is reading your work (typically, recruiters!). Many junior UX designers often forget about the conclusion part of the case study, but this is a costly mistake to make. A well-written case study must end with an appropriate final section, in which you should summarize the key takeaways that you want others to remember about you and your work. Let's see why.
Last impressions are just as important as first ones
We'll go to some length here to convince you about the importance of last impressions, especially as we can understand the reason behind not wanting to pay very much attention to the end of your case study, after all the hard work you put into writing the process section. You are tired, and anyone who's read your work should already have a good idea about your skills, anyway. Surely—you could be forgiven for thinking, at least—all that awesome material you put in the start and middle sections must have built up the momentum to take your work into orbit and make the recruiter's last impression of you a lasting—and very good—one, and all you need to do now is take your leave. However, psychologist Saul McLeod (2008) explains how early work by experimental psychology pioneers Atkinson & Shriffin (1968) demonstrated that when humans are presented with information, they tend to remember the first and last elements and are more likely to forget the middle ones.
This is known as the "serial position effect" (more technically, the tendency to remember the first elements is known as the "primacy effect", while the tendency to remember the last elements is known as the "recency effect"). Further work in human experiences discovered that the last few things we see or hear at the end of an experience can generate the most powerful memories that come back to us when we come across a situation or when we think about it. For example, let's say you stayed in a hotel room that left a bit to be desired. Maybe the room was a little cramped, or the towels were not so soft. But if the receptionist, as you leave, shakes your hand warmly, smiles and thanks you sincerely for your custom, and goes out of his way to help you with your luggage, or to get you a taxi, you will remember that person's kind demeanor more than you will remember the fact that the room facilities could be improved.
A good ending to your case study can help people forget some of the not-so-good points about your case study middle. For example, if you missed out a few crucial details but can demonstrate some truly interesting takeaways, they can always just ask you about these in an interview. Inversely, a bad ending leaves the recruiter with some doubt that will linger. Did this person learn nothing interesting from all this work? Did their work have no impact at all? Did they even write the case study themselves? A bad last impression can certainly undo much of the hard work you've put into writing the complicated middle part of your case study.
What to put in your case study conclusions
A case study ending is your opportunity to bring some closure to the story that you are writing. So, you can use it to mention the status of the project (e.g., is it ongoing or has it ended?) and then to demonstrate the impact that your work has had. By presenting some quantifiable results (e.g., data from end evaluations, analytics, key performance indicators), you can demonstrate this impact. You can also discuss what you learned from this project, making you wiser than the next applicant – for example, something about a special category of users that the company might be interested in developing products for, or something that is cutting-edge and that advances the frontiers of science or practice.
As you can see, there are a few good ways in which you can end your case study. Next, we will outline four options that can be part of your ending: lessons learned, the impact of the project, reflections, and acknowledgements.
Lessons learned
A recruiter wants to see how you improve yourself by learning from the projects you work on. You can discuss interesting insights that you learned from user research or the evaluation of your designs – for example, surprising behaviors that you found out about the technology use in a group of users who are not typically considered to be big proponents of technology (e.g., older adults), or, perhaps, the reasons a particular design pattern didn't work as well as expected under the context of your project.
Another thing you can discuss is your opinion on what the most difficult challenge of the project was, and comment on how you managed to overcome it. You can also discuss here things that you found out about yourself as a professional – for example, that you enjoyed taking on a UX role that you didn't have previous experience with, or that you were able to overcome some personal limitations or build on your existing skills in a new way.
Impact of the project
Showing impact is always good. How did you measure the impact of your work? By using analytics, evaluation results, and even testimonials from your customers or users, or even your development or marketing team, you can demonstrate that your methodical approach to work brought about some positive change. Use before-after comparison data to demonstrate the extent of your impact. Verbatim positive quotes from your users or other project stakeholders are worth their weight (or rather, sentence length) in gold. Don't go overboard, but mix and match the best evidence for the quality of your work to keep the end section brief and to the point.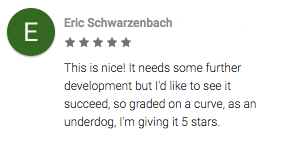 Copyright holder: Andreas Komninos, Interaction Design Foundation. Copyright terms and license: CC BY-SA 3.0
User reviews from app stores are a great source of obtaining testimonials to include in your case studies. Overall app ratings and download volumes are also great bits of information to show impact.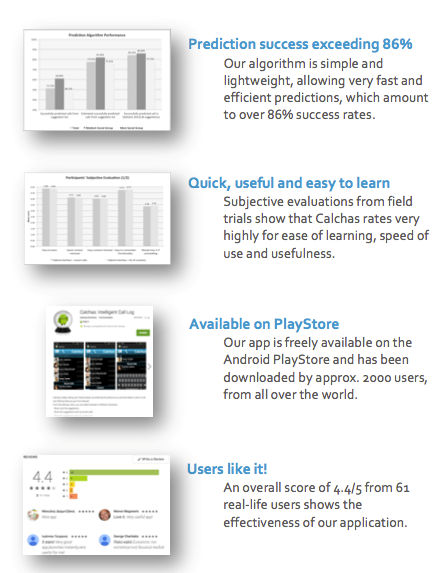 Copyright holder: Andreas Komninos, Interaction Design Foundation. Copyright terms and license: CC BY-SA 3.0
An excerpt from a case study ending section. Here, text and accompanying charts are used to demonstrate the impact of the work done by the UX professional.
Reflections on your experiences
You can include some information that shows you have a clear understanding of how further work can build on the success of what you've already done. This demonstrates forward thinking and exploratory desire. Something else you can reflect on is your choices during the project. In every project, there might be things you could do differently or improve upon. But be aware that the natural question that follows such statements is this: "Well, so why haven't you done it?"
Don't shoot yourself in the foot by listing all the things you wish you could have done, but focus on what you've actually done and lay out future directions. For example, if you've done the user research in an ongoing project, don't say, "After all this user research, it would have been great to progress to a prototype, but it's not yet done"; instead, say, "This user research is now enabling developers to quickly progress to the prototyping stage."
Acknowledgments
The end of the case study section is where you should put in your acknowledgments to any other members of your team, if this wasn't a personal project. Your goal by doing so is to highlight your team spirit and humility in recognizing that great projects are most typically the result of collaboration. Be careful here, because it's easy to make the waters muddy by not being explicit about what YOU did. So, for example, don't write something like "I couldn't have done it without John X. and Jane Y.", but instead say this: "My user research and prototype design fed into the development work carried out by John X. User testing was carried out by Jane Y., whose findings informed further re-design that I did on the prototypes."
What is a good length for a UX case study ending?
UX case studies must be kept short, and, when considering the length of your beginning, process and conclusion sections, it's the beginning and the conclusion sections that should be the shortest of all. In some case studies, you can keep the ending to two or three short phrases. Other, longer case studies about more complex projects may require a slightly longer section.
Remember, though, that the end section is your chance for a last, short but impactful impression. If the hotel receptionist from our early example started to say goodbye and then went on and on to ask you about your experience, sharing with you the comments of other clients, or started talking to you about where you are going next, and why, and maybe if he had been there himself, started to tell you all about where to go and what to see, well… you get the point. Keep it short, sincere and focused. And certainly, don't try to make the project sound more important than it was. Recruiters are not stupid – they've been there and done that, so they know.
Putting it all together
In the example below, we will show how you can address the points above using text. We are going to focus on the three main questions here, so you can see an example of this in action, for a longer case study.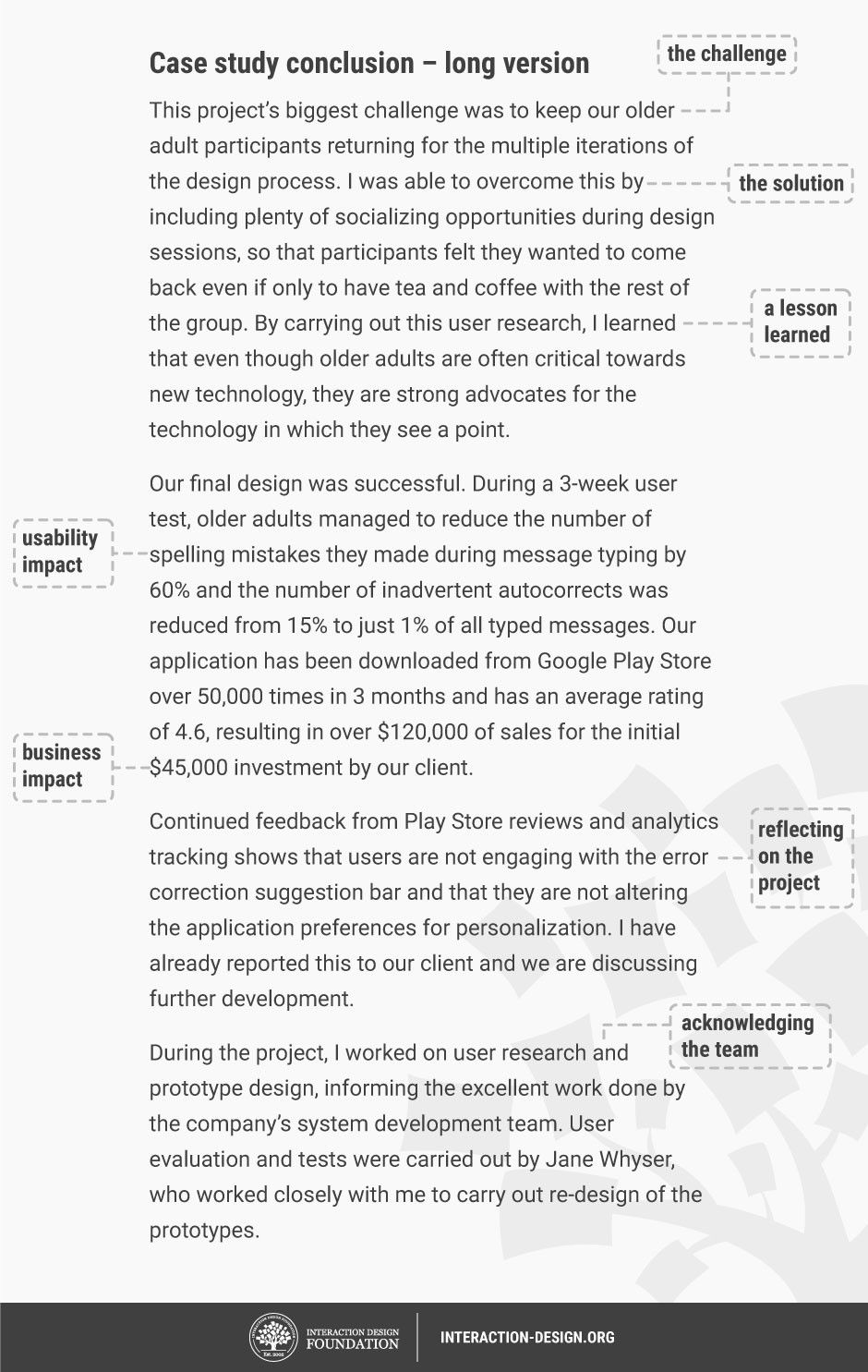 Copyright holder: Andreas Komninos, Interaction Design Foundation. Copyright terms and license: CC BY-SA 3.0
An example ending section for a longer case study, addressing all aspects: Lessons, impact, reflection and acknowledgments.
Here is how we might structure the text for a shorter version of the same case study, focusing on the bare essentials: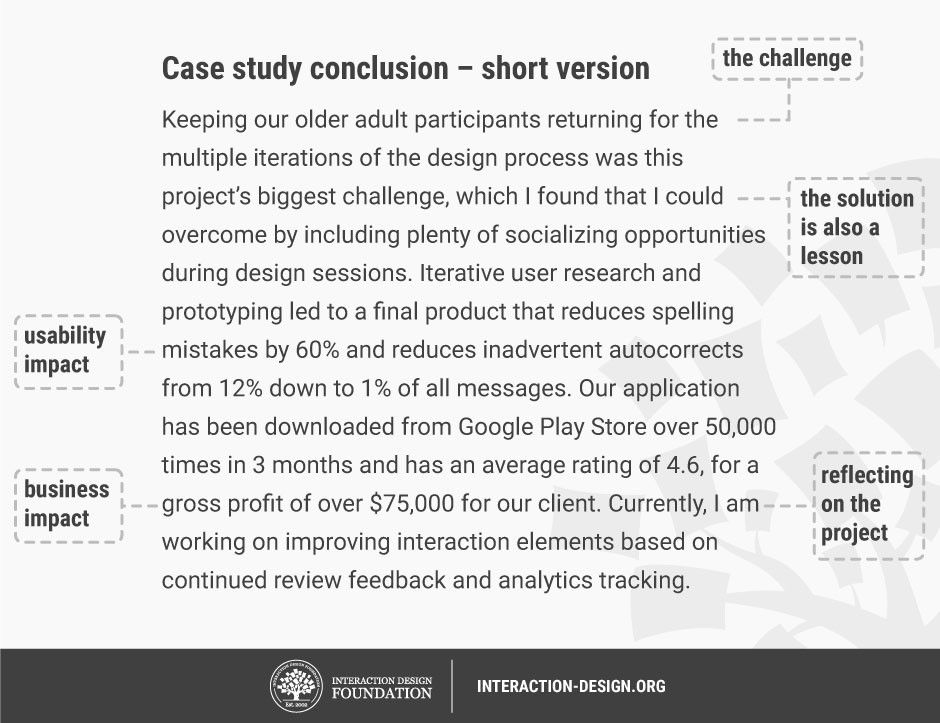 Copyright holder: Andreas Komninos, Interaction Design Foundation. Copyright terms and license: CC BY-SA 3.0
An example ending section for a shorter case study, addressing the most critical aspects: Lessons, impact and reflection. Acknowledgments are being sacrificed for the sake of brevity here, but perhaps that's OK – you might mention it in the middle part of the case study.
The Take Away
The end part of your case study needs as much care and attention as the rest of it does. You shouldn't neglect it just because it's the last thing in the case study. It's not hard work if you know the basics, and here, we've given you the pointers you need to ensure that you don't miss out anything important. The end part of the case study should leave your recruiters with a good (hopefully, very good) last impression of you and your work, so give it the thorough consideration it needs, to ensure it doesn't undo all the hard work you've put into the case study.
References & Where to Learn More
Copyright holder: Andrew Hurley, Flickr. Copyright terms and license: CC BY-SA 2.0
Atkinson, R. C., & Shiffrin, R. M. (1968). Chapter: Human memory: A proposed system and its control processes. In Spence, K. W., & Spence, J. T. The psychology of learning and motivation (Volume 2). New York: Academic Press. pp. 89–195.
McLeod, S. (2008). Serial Position Effect