It's Friday! And thank goodness for that right? Only a few more hours of work and I'll be ready to spend my weekend working too… well hopefully your weekends don't look as busy as mine do at the moment. But even if they are here's a little fun to make this Friday go a bit faster.
From the Notebook to the Cloud




It sounds almost like a reporter's memoir doesn't it? Yet, there's no need to die for this or to put up with several thousand words about vegan yoga to get the goodies. The new Adobe Moleskin notebook can send your sketches straight to the cloud! Sounds awesome right? Find out if it is or isn't at Fast Company…
"Let me guess. You've learned how to make a living wielding a mouse in Photoshop or Illustrator all day, but you still dream of sitting casually in a coffee shop, sipping lattes and sketching in Moleskines, like a beatnik with a dayjob.

Now, that possibility comes a step closer. Moleskine and Adobe have partnered on a new Creative Cloud Moleskine notebook. You draw in the book, take a photo with a connected app, and a vector version of your sketch is beamed to your Adobe Creative Cloud account, where it can be edited in Photoshop or Illustrator. You could use the app without the notebook, of course, but the Moleskine paper provides dots on each page that serve as a frame of reference to remove distortion from less-than-flat paper or a wonky lens."
Learn all about it and watch the video here…
Tattooed Millionaires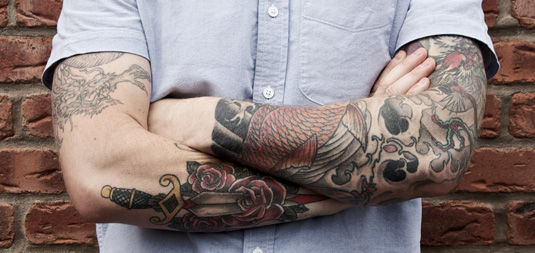 Actually we have no idea whether these guys are millionaires or not – we're just paying homage to Iron Maiden's lead singer in the headline. These guys are better than tattooed millionaires; they're tattooed designers instead:
"Get some inspiration from these awesome tattoos, as each owner explains the story behind theirs and what makes it special.

These awesome tattoos will inspire you to get your own ink done – find out more about the designers and the stories behind them."
Creative Bloq will fill you in on just how awesome these tattoos really are…
The Best News Ever!
Esteban Sosnik of Co.lab has the best news for your children ever. He says that in the future all homework is going to consist of video games (it makes me wish I could go back to school to be honest…) check out what he has to say at VentureBeat.
"For many students, the mention of homework evokes a sense of dread. Ask any parent and chances are they, too, have a strong opinion about the value of homework.

Educators and researchers are divided on the issue. In the last decade, an emphasis on standardized tests has become much more prevalent, creating incentives to assign students with even more homework."
See the talk here at Venture Beat
Image credits: Images are drawn from the articles we have linked to and image sources can be found at the bottom of these articles.