8 reasons to join the IDF
Bitbean has invited you to learn great UX design at the Interaction Design Foundation. Find out what makes our learning community so well loved by designers all over the world!
1.

Because you get 3 months of free membership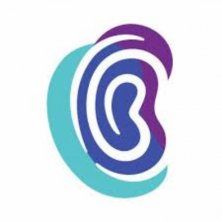 Since you're invited by Bitbean, you get to enjoy 3 months off your first year of membership with the Interaction Design Foundation. Join our community and start learning great UX design today!
2.

Because our content is king

When you want to learn and advance your career, content matters. You shouldn't take any risks with your design education, and your course content should be evidence-based and rigorous. At the IDF, we have worked incessantly since 2002 on perfecting our content, and industry experts have a lot to say about our output:
Ivy League level education in UX, Product Design or Human-Computer Interaction
Forbes.com
...an incredibly rich compendium filled with a wide variety of lessons and information
Core77

...the oldest and largest operator in the field of UX, with well-respected tutors such as Don Norman. That specialism in UX makes a huge difference… they aren't a 'teach me anything' learning platform. They are specialists with all of the associated credibility that comes with that.
Paul Boag

I found the amazing quantity and quality of available UX design courses to be almost overwhelming. The primary value membership in the Interaction Design Foundation provides is unlimited free access to over 34 top of the line, high quality courses in the UX design field.
UsefulUsability.com

A goldmine of information on interaction design
Don Norman

Top-grade educational materials by the world's technology elite... on how to make technology more people-oriented and easy-to-use.
SAP Community Network

As someone who's worked on quite a few 150+ page ebooks at UXPin, even I was impressed by the depth of the material and author expertise.
UXPin

Focusing on the interaction between human psychology and existing design trends, the IDF's user experience courses support industry trailblazers by offering 'future-proof' knowledge… users can indulge from multiple ends of the design spectrum.
Usabilla
Our peer-reviewed, evidence-based educational materials are used by the following universities in their curricula:
Our focus on creating top-quality content is also featured in these fine publications:
3.

Because we get great member reviews

Since 2002, we've worked night and day for our members — so it's no surprise that we get great reviews from them. Our members are at the heart of our community; they're what makes our thriving global network of designers, well, thriving.

It is an honor to be part of your organization, and I am looking forward to growing and contributing to the field, thanks to the information, courses, and advice that your organization provides.
Vera Dragilyova
, United States
IDF is the right place for you namely if you're in search for the perfect balance between academic rigor and practical relevance [...] Sometimes you need more than learning. You need someone to believe in you, because motivation is more important than knowledge. Motivation is what pushes you to learn. Interaction Design Foundation is all about that.

I wanted to thank you! IDF is just the best thing ever. Just ever! Making this information accessible and available at the high level of quality. Just awesome!
Phillip Dodson
, United States

I want to start this email by saying that the content provided by the instructors, organizers, designers, and support staff at IDF is superb. I have learned so much in such a short time, and all of it has been both inextricable from my daily perception and applicable to my professional goals. Truly, a world class experience.
Clayton Whittle
, South Korea

Well, I've started with one of the courses and felt it was fair to write once again just to say you that you are a great team of human, cognitive and pedagogy centered professionals. I'm really glad that I've become a member and have all of these tons of information for self-paced learning, the content I read it's great so far!
Fernando Martinez Carreon
, Mexico
How wonderful.......I am looking forward to all I can learn and share with the community. You have a brilliant site and wonderful offerings.
Natalie Verdon
, Australia

What a great lesson by @farreaching on Mobile UX Design at Interaction Design Foundation!

For a while I had been looking for online interaction design courses and I am really happy I found you guys. You're doing a great job!! Thanks!
Gisele Le Chevallier
, Norway

Achieved a 1st worldwide in Design Thinking class.. Great course Interaction Design Foundation

I do admire what you do, this is an amazing place!

I just graduated from university, so now I have some free time to go through the content and finish the courses :) Great work, very high quality.

I am recommending membership for IDF to everyone in this space – and everyone buys in because it so incredibly industry relevant.
Dereck du Toit
, South Africa

Thank you for putting together such a wonderful training platform for interaction designers! It truly has university-level quality. Again, it's a fantastic effort that you have put up there, do keep it up!
I'm definitely enjoying this course so far, and looking forward to learning about the other course topics on offer. The website is an incredible resource - big thanks for making such a treasure trove of information available. All the best from London :-)

I became a member of the Foundation to learn specifically about dashboards and to improve my English language skills. But I had a great surprise when I found that I could learn so much more! The dashboard course (I think it was a Mads course) even changed my point of view about e-learning. I always thought that on line courses had a very limited grasp in learning, but the way that all the content was structured showed me that it is possible to build really good stuff in this format!
I have embarked on a new career starting with the courses on your website. I am grateful to have come across your foundation that will allow me to build a career as a designer without having to spend a fortune and feel the stress on top of what comes with other family responsibilities

I am happy with the content of this course and other contents in IDF's site. This is helping me to reinforce my knowledge and define the concepts, discovering I knew more things about UX that I expected! I am also practicing some English and that's good for me too, learning new thing is fantastic!
Julia Maroto Romero De Ávila
, Spain

Interaction Design Foundation offers a fantastic catalog of UX courses. Members can take unlimited courses for free!
Darren Hood
, United States

First of all I am very much excited joining in the course and will definitely refer my friends to go through the course. Innovative and Informative is the two terms will go with Interaction-Design.

My first impression of the site: brilliant design, almost perfect UX. I felt at home immediately!
Want to hear more from our members? Read in-depth reviews that our members have written over the years.
Show all member testimonials
Show fewer member testimonials
4.

Because IDF Course Certificates are industry-recognized

Course Certificates make a great impact on your career—but only if an organization trusted by the industry issues them. Having something solid to show for your achievements is all-important, and that's why prestige and prominence are among our watchwords! In fact, IDF Course Certificates have been steadily gaining industry relevance since 2002, and we even issue two types of distinctions on our certificates—if you do particularly well.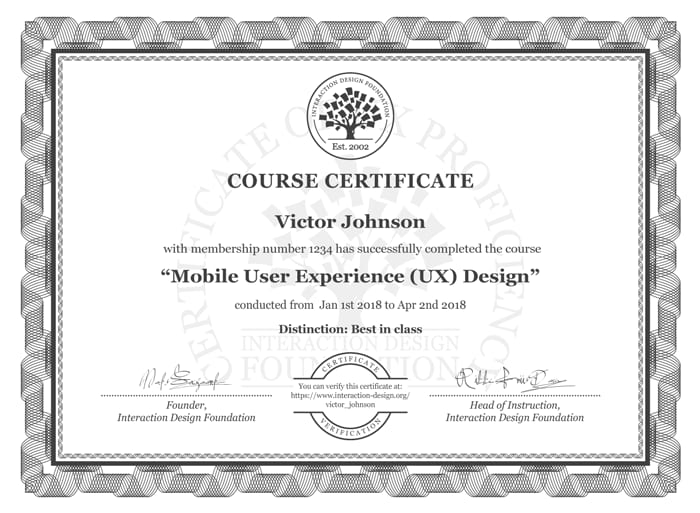 Our Course Certificates are trusted by these industry leaders, who have taken up company memberships with the IDF:
You can easily add IDF Course Certificates to your LinkedIn profile and résumé in order to showcase your skills: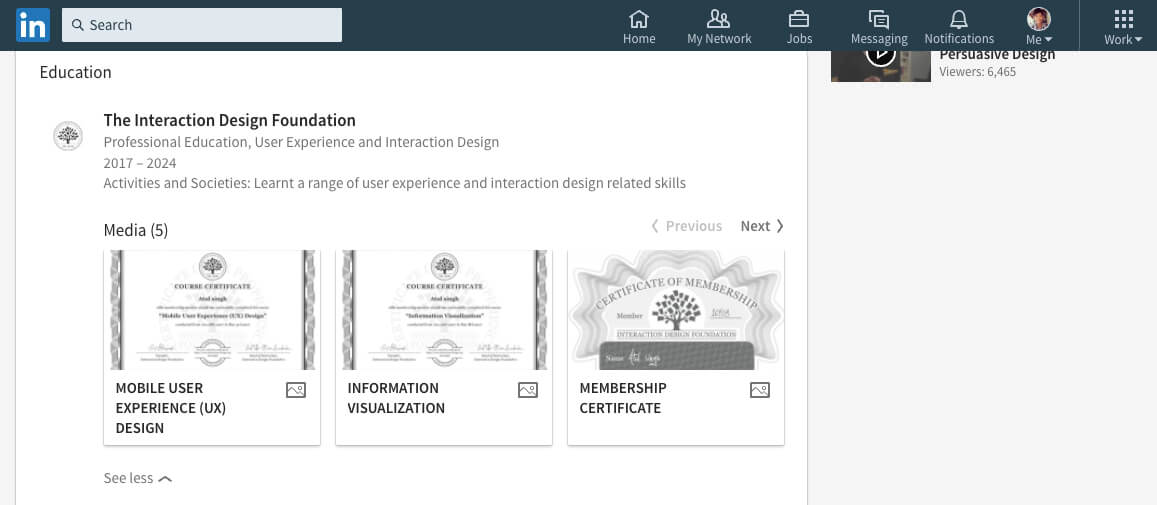 5.

Because we cover the full spectrum of UX design

UX design is a multidisciplinary field. Thankfully, we've got more than 20 courses, from beginner-level to advanced-level, covering a wide range of topics (psychology, usability, interaction design, etc.). We have so many courses because we know becoming a great designer is a long and engrossing journey, not the result of a 10-week crash course.
Beginner courses
Intermediate courses
Advanced courses
The best part is you pay a flat membership fee, regardless of the number of courses you take. This way, you get astounding savings in course fees, which means seriously engaging, career-building and industry-leading learning material for an incredibly low price.
6.

Because UX design is a booming industry

Job opportunities are increasing for UX Designers like never before (an estimated 13% increase from 2010 through 2020), and UX Designer wages are soaring – in fact, upwards of $110k in cities such as San Francisco and New York.1

Job Opportunities
UX Designer Pay
Here are some stories of designers we've helped find career success:
1
Bloc Job Trends Report
7.

Because we're good for business

The return on investment in good UX is undeniably huge. Companies that invest in great design outperformed the S&P 500 Index by 228% between 2004 and 2014.2

10-Year Stock Price Growth
That's even before considering the internal cost savings that come with greater productivity, reduced redundancy in workflows, lowered development and maintenance costs, and many more.
2
Design Management Institute
8.

Because our price and quality are unbeatable

As the IDF is a nonprofit design education movement, our whole mission is to lower the price of top-quality design education. We've been hard at work continually lowering our prices – while increasing the quality and quantity of our membership benefits – over the past 17 years. That's why we are able to offer industry-leading education at unbeatable prices.
| Course features | | | | | |
| --- | --- | --- | --- | --- | --- |
| Number of available courses | 29 | 7 | 65 | 4 | 1 |
| Price per course | $5 | $39 | $99-299 | $2,000 | $11,500 |
| Industry recognition | | Depends on course | | | |
| Credible course certificates | | | | | |
| Peer-reviewed content | | | | | |
| Online global community | | | | | |
| Optional meetings in your city | | | | | |
| Both beginner and advanced courses | | | | | |