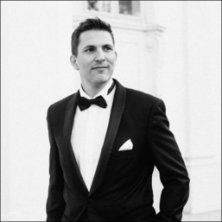 Hannes Robier
CEO youspi & Chair World Usability Congress & World UX Tour at youspi
Description
Hannes Robier is the founder of the usability and user
experience-consulting agency youspi GmbH, as well as organizer of the
World Usability Congress. He has worked in the field of User Experience,
Customer Experience, Usability and Service Design for more than 10
years, consulting organizations of all sizes and various industries.
Hannes earned the Customer Experience Management Certification in the
USA in 2007 and was a successful participant in the BETA phase of the
Certified Professional for Usability and User Experience (CPUX) - F
(2013) Level of German UPA in 2013. Furthermore, he completed a Design
Thinking certification in Los Angeles in 2014.


Hannes is a
lecturer for usability and user experience and has given speeches at
various national and international conferences. Moreover, he is an
external lecturer at the University of Applied Sciences in Graz Campus02
and author of "UX Redefined – Winning and Keeping Customers with
Enhanced Usability and User Experience", a book covering the essentials
of usability and user experience published by Springer, as well as two
books on personality development.
Courses Hannes Is Taking