UXPeaker · El papel del cerebro emocional en el diseño de experiencias de uso + Taller Experimental
UXLabIcesi - Universidad Icesi
Cl. 18 #122-135, Cali, Valle del Cauca Cali 760032
Oct
11
Time zone:
(UTC -05:00) Bogota
This is an IDF Local Group meet-up
Attendance is free
You do not have to be a member of the IDF to attend
What are Local Groups?
IDF Local Groups will expand your local career network - whether you are interested in learning new skills, looking for new job opportunities, new clients for your company, or a great new dedicated employee.
An IDF Local Group is a group of people who are just as passionate about design as you are. Each Local Group holds physical meetings and the agenda is to get inspired, discuss, have fun, learn and improve your career. Meetings take place in a relaxed and fun atmosphere at a local cafe, an office building, or an auditorium depending on the agenda for the meeting. For each Local Group there is also an online Local Group so you can stay in touch and help update each other on local events.
Meet-up description
Vuelve UXPeaker y esta vez hablaremos de UX Research, interacción, emoción entre otros, Charla + Taller, prográmate para el viernes 11 de octubre con MasterClass de 1 a 2pm y luego workshop de 2 a 6pm.
MasterClass: El papel del cerebro emocional en el diseño de experiencias de uso.
Mucho se habla hoy del diseño de experiencias de usuario, empatía y diseño emocional.
Sin embargo
¿Cómo y dónde surgen las emociones?
¿Dónde surge la experiencia en el usuario
¿Por qué son importantes las emociones en la interacción con interfaces?
¿Qué hace que una experiencia impacte más que otra?
La presente charla quiere ser más una provocación para entender mejor nuestras propias emociones y poder propiciarlas en otros desde el diseño.
Streaming via: UXLabIcesi.com
Taller Experimental: Replanteando interacciones
A través de ejercicios prácticos de imaginación aplicada y action research, durante una sesión de 4 horas se buscará
replantear o redefinir mecanismos de interacción de diferentes interfaces físicas o digitales.
Entendiendo el problema y contexto de uso
Innovación en Acción: cómo hacer mejores preguntas
Validación: Estimulo, Sensación, Percepción y Feedback
Cupos limitados / Inscríbete aquí
Invitada:
Natalia Vivas V
Natalia es Arquitecta y Consultora Senior en Experiencia de Usuario, magíster en Imaginación Aplicada en Industrias Creativas de la Universidad de Las Artes de Londres.
Fue socia y co-directora de Usaria Colombia en Bogotá. Ha sido reconocida como líder y mentora en usabilidad en su país por organizar el evento local del Día Mundial de la Usabilidad desde 2005.
En 2012 fue elegida como Vice Presidente de Profesionales del SIGCHI Latam, donde promovió la conexión entre comunidades de Interacción Humano Computador y Diseño de Interacción en la región.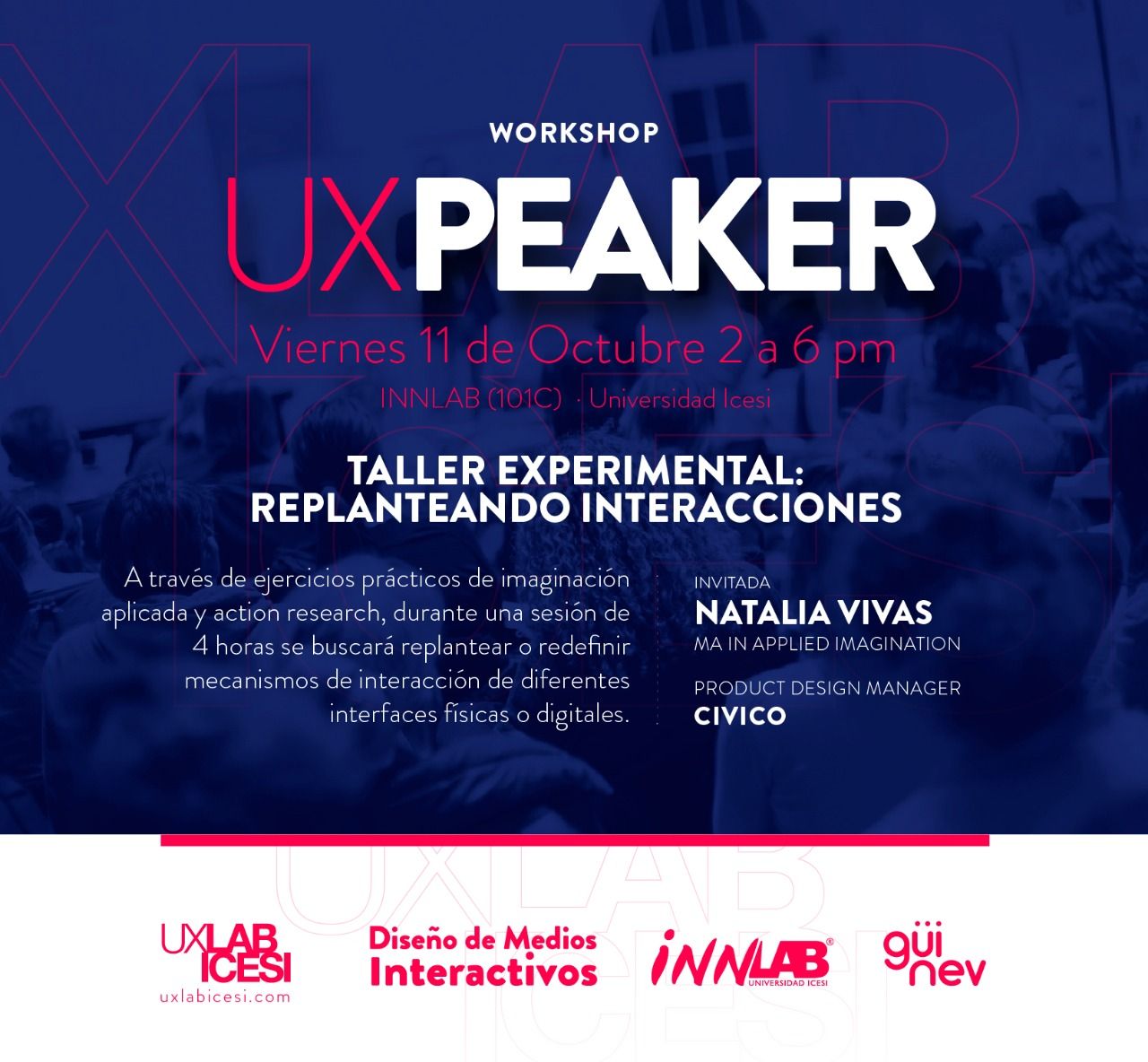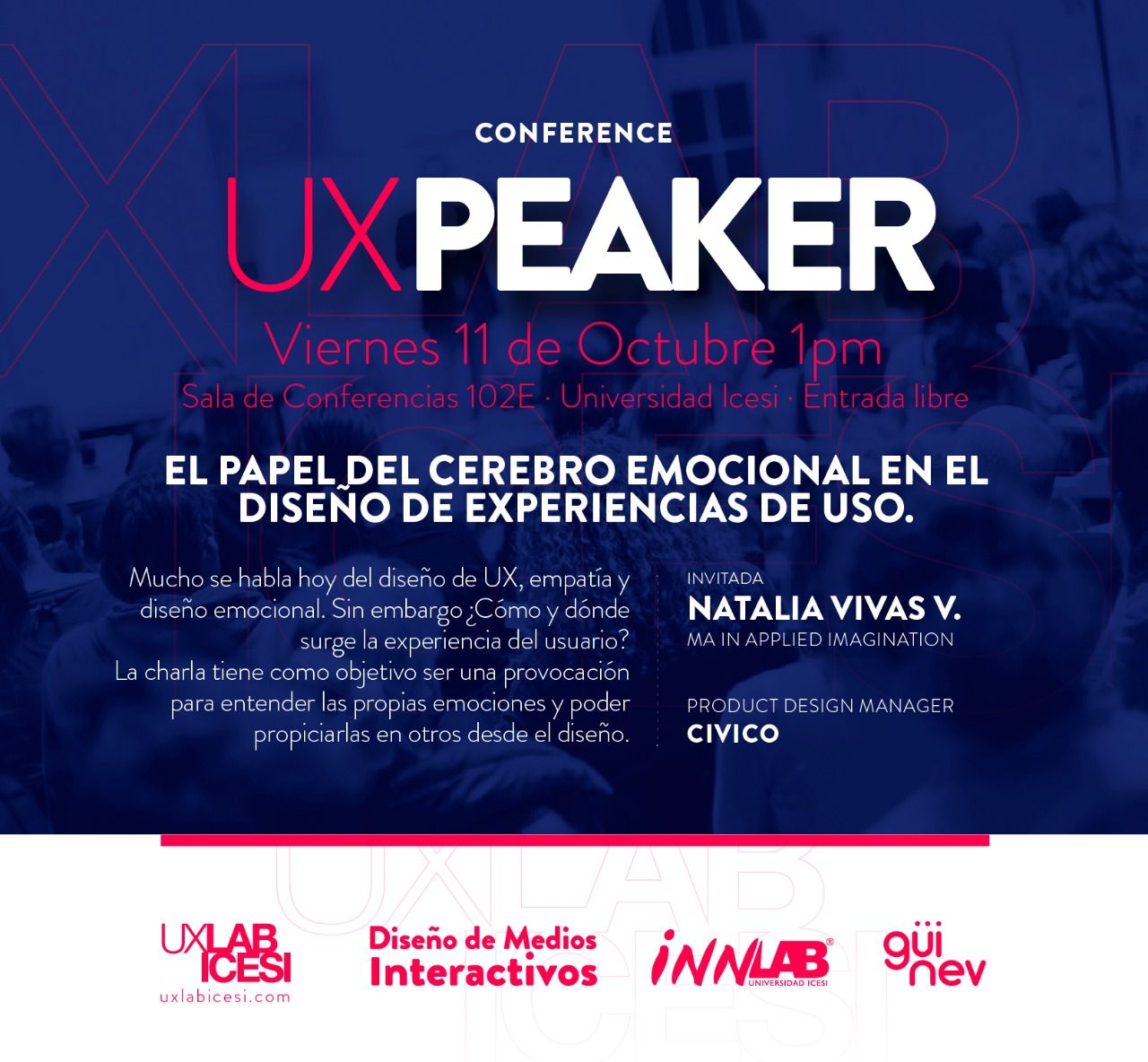 Meet-up discussion