UX Webinar: Designing for Different Orgs
Apr 17th, 2020
1:00pm - 2:00pm (UTC -04:00)
Online, Online meet-up, New York City, NY
This is Local Group meet-up
Attendance is free
You do not have to be a member of the IDF to attend
What are Local Groups?
IDF Local Groups will expand your local career network - whether you are interested in learning new skills, looking for new job opportunities, new clients for your company, or a great new dedicated employee.
An IDF Local Group is a group of people who are just as passionate about design as you are. Each Local Group holds physical meetings and the agenda is to get inspired, discuss, have fun, learn and improve your career. Meetings take place in a relaxed and fun atmosphere at a local cafe, an office building, or an auditorium depending on the agenda for the meeting. For each Local Group there is also an online Local Group so you can stay in touch and help update each other on local events.
Meet-Up Details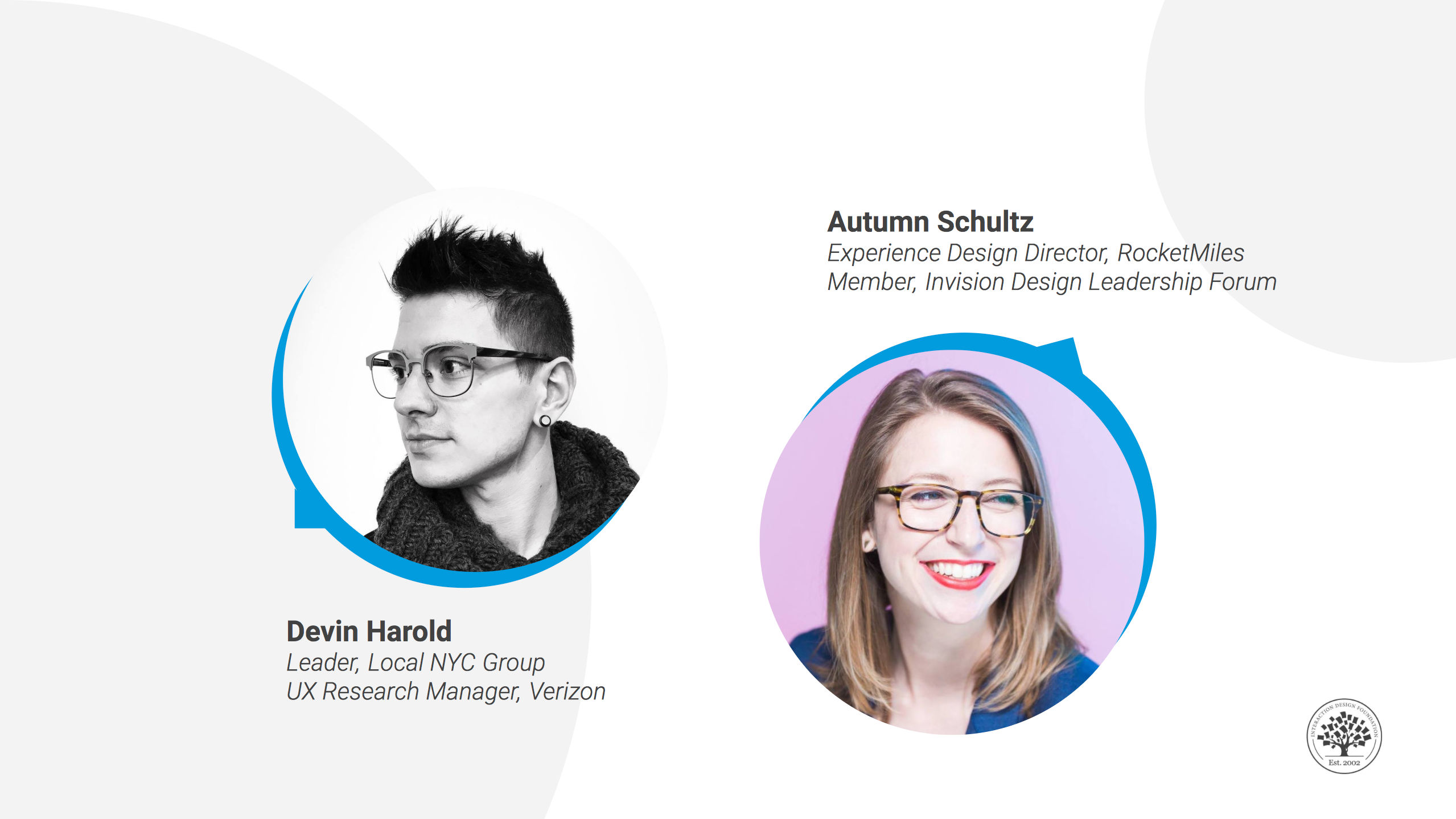 Ever wonder what the difference is between designing for a startup vs designing at scale within a Corporate enterprise?
Tune into the candid conversation between two longtime friends: Autumn Schultz, Design Director at RocketMiles and Devin Harold, UX Research Manager at Verizon as they recount their experiences working within various organizations.
This webinar will be in a conversational style with plenty of fun and lots of laughs. Devin and Autumn will cover a discussion on:
org structures
team sizes
types of work
pros & cons
They hope to cover these topics across the different types or organizations they've worked for:
Startups
Agency
Mid-sized Corporate
Corporate at scale
HOW TO JOIN:

Join the Webinar at the scheduled time:
https://www.freeconferencecall.com/wall/idf-nyc/host
Click the green 'join online meeting' button on the screen, OR
Dial in with your phone
See you then!!
132 IDF members (and some non-members) are attending
Meet-up discussion
Local Leaders of IDF New York City