¿Qué es el UX Writing? Cuatro expertos comparten sus experiencias
Trovit
Avinguda Diagonal, 601 Barcelona 08028
Mar
14
Time zone:
(UTC +02:00) Madrid
This is an IDF Local Group meet-up
Attendance is free
You do not have to be a member of the IDF to attend
What are Local Groups?
IDF Local Groups will expand your local career network - whether you are interested in learning new skills, looking for new job opportunities, new clients for your company, or a great new dedicated employee.
An IDF Local Group is a group of people who are just as passionate about design as you are. Each Local Group holds physical meetings and the agenda is to get inspired, discuss, have fun, learn and improve your career. Meetings take place in a relaxed and fun atmosphere at a local cafe, an office building, or an auditorium depending on the agenda for the meeting. For each Local Group there is also an online Local Group so you can stay in touch and help update each other on local events.
Meet-up description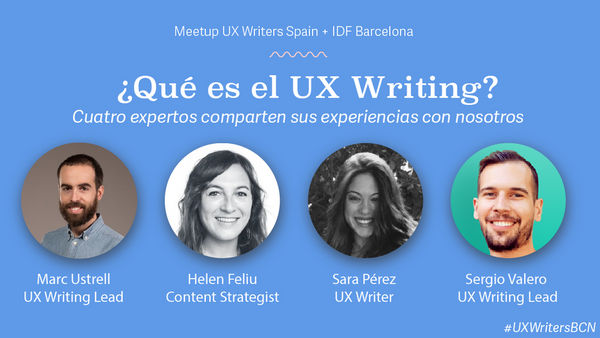 Enlace del Meetup: https://www.meetup.com/es-ES/UX-Writers-BCN/events...
En colaboración con IDF Barcelona, UX Writers España te invita a su primer meetup con un panel variado de expertos en UX Writing. Ven a conocer a Helena Feliu, Marc Ustrell, Sara Pérez y Sergio Valero (moderado por Mario Ferrer), quienes compartirán con nosotros sus experiencias y lo que se necesita para empezar en el mundo del UX Writing.
Helena, Marc, Sara y Sergio hablarán sobre su labor como UX Writers y cómo su rol ayuda a la experiencia de los usuarios en distintas industrias. Después tendremos la oportunidad de hacerles preguntas y abriremos la conversación sobre UX Writing y las oportunidades que existen actualmente en Barcelona.
UX Writers:
Helena Feliu
Content Strategist
Duit Studio
UX Writer y content strategist especializada en contenido digital con más de 14 años de experiencia, trabajando, entre otros, para Multiplica, TripAdvisor y PayPal.
Marc Ustrell
UX Writing Lead & Digital Marketing Specialist
Opentrends
Como lead, actualmente gestiona y lidera la estrategia de contenido para compañías B2B y B2C donde se centra en proyectos de innovación en los sectores finanzas, retail e institucionales.
Sara Pérez
UX Writer
Mango
Periodista de formación y diseñadora de contenidos de profesión. Con la idea de que "el contenido no existe en un vacío", crea la conexión entre el usuario y la interfaz. De esta forma, da sentido a la experiencia de sus clientes a través de las palabras.
Sergio Valero
Lead UX Writer
Doctoralia
Comenzó su camino como copywriter, pero el microcopy llamó a su puerta hace ahora 3 años para quedarse. Hoy tiene una meta: conseguir que la experiencia de salud sea más humana.
Sobre UX Writers España:
Somos una comunidad de UX writers, esas personas que escriben los textos que te guían cuando navegas por páginas web y aplicaciones. Hemos creado este espacio para compartir lo que aprendemos con otros apasionados del tema, de todos los niveles.
---
11 IDF members (and some non-members) are attending:
Meet-up discussion
Local Leaders of IDF Barcelona