LEGO® SERIOUS PLAY® Design Thinking Workshop
Canòdrom Parc de Recerca Creativa
Carrer de Concepción Arenal, 165 Barcelona 08027
Jul
26
Time zone:
(UTC +02:00) Madrid
This is an IDF Local Group meet-up
Attendance is free
You do not have to be a member of the IDF to attend
What are Local Groups?
IDF Local Groups will expand your local career network - whether you are interested in learning new skills, looking for new job opportunities, new clients for your company, or a great new dedicated employee.
An IDF Local Group is a group of people who are just as passionate about design as you are. Each Local Group holds physical meetings and the agenda is to get inspired, discuss, have fun, learn and improve your career. Meetings take place in a relaxed and fun atmosphere at a local cafe, an office building, or an auditorium depending on the agenda for the meeting. For each Local Group there is also an online Local Group so you can stay in touch and help update each other on local events.
Meet-up description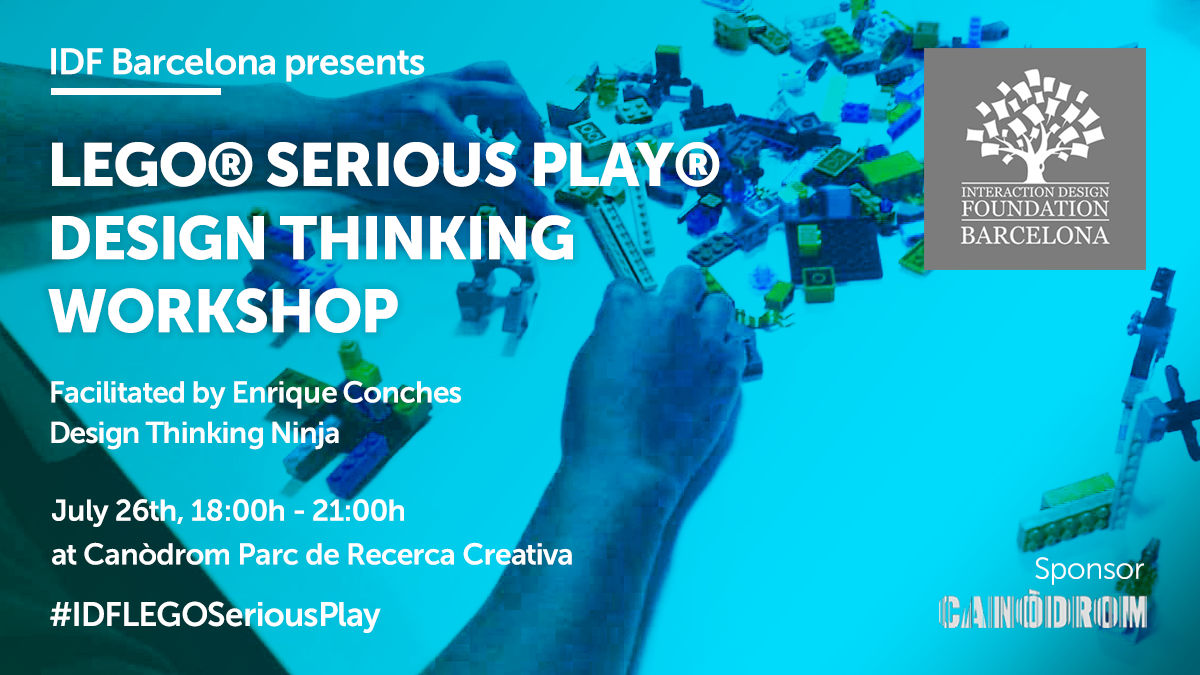 Dear Uxers,

We are thrilled to bring you LEGO® SERIOUS PLAY®, a Design Thinking workshop facilitated by Enrique Conches, Design Thinking Ninja, and member of the Interaction Design Foundation. This workshop will help you have an entertaining toolbox for making teams bring out their best creative efforts in solving the most difficult challenges.
LEGO® SERIOUS PLAY® is a methodology that helps with communication between teams and a powerful problem-solving tool geared towards creating innovative solutions, improving team results, and company goal and strategy design.
Thanks to the facilitation of several tecniques and the use of metaphors, we will work challenges in teams, making sure we arrive at different solutions consensuated by all.
During this 3h workshop we will use Lego's communication potential to use it as a research technique together with Design Thinking to obtain insights while making sure the user is always at the center of our process.
Workshop agenda:
- Brief intro to the methodology.
- Challenge presentation
- Empathy session with LEGO® SERIOUS PLAY
- Time to reflect on the results
- Closing of the workshop
The workshop is free but each participant must pay 7€ in advance for their own LEGO kit. This workshop will be conducted in English.
Once we publish in Meetup.com our spots for the workshop will go fast. There are only 28 spots, so RSVP as quickly as you can!
Thanks to our sponsor Canòdrom for letting us use their equipment and facilities.
The Canòdrom is inviting everyone participating in this workshop to try out their co-working space for free for two weeks.
---
12 IDF members (and some non-members) are attending:
Meet-up discussion
Local Leaders of IDF Barcelona