Investigación colectiva: Emoción en espacios públicos - Sesión 1
Posmo CX Consulting & Research
Perez Valenzuela #1235, Oficina 303. (Metro Manuel Montt, L1) - Providencia Santiago RM 7500572
May
17
Time zone:
(UTC +00:00) UTC
This is an IDF Local Group meet-up
Attendance is free
You do not have to be a member of the IDF to attend
What are Local Groups?
IDF Local Groups will expand your local career network - whether you are interested in learning new skills, looking for new job opportunities, new clients for your company, or a great new dedicated employee.
An IDF Local Group is a group of people who are just as passionate about design as you are. Each Local Group holds physical meetings and the agenda is to get inspired, discuss, have fun, learn and improve your career. Meetings take place in a relaxed and fun atmosphere at a local cafe, an office building, or an auditorium depending on the agenda for the meeting. For each Local Group there is also an online Local Group so you can stay in touch and help update each other on local events.
Meet-up description
Local Meeting #19
17 de MAYO, 7PM
Investigación colectiva: Emoción en espacios públicos

Llamado abierto solos para miembros de IDF Chile
El Interaction Design Foundation invita a sus miembros activos a participar en una investigación colaborativa junto a la consultora Posmo CX Consulting & Research.

El objetivo de la investigación:
Identificar los patrones emocionales de las personas en puntos públicos específicos con el fin de establecer la carga afectiva de zonas de alto flujo diario.

Rol del Interaction Design Foundation:
· Conectar a sus miembros activos con una investigación sobre el aspecto emocional
· Validar la metodología de la investigación
· Publicación en inglés en plataforma oficial

Rol del participante del Interaction Design Foundation CHILE:
· Colaborar en la investigación colectiva de forma voluntaria
· Adquirir un compromiso de trabajo constante
· Respetar el compromiso de colaboración en la investigación

Rol de Posmo CX Consulting & Research:
· Ofrecer 2 lineas de investigación a los participantes
· Guiar la investigación hacia los objetivos públicos, manteniendo los estandares de la Fundación
· Ofrecer las herramientas necesarias para la captura de datos biológicos (EEG, EKG, Camara 360, UserEmotion Analysis, Software de EEG, Espacio)
· Estructurar, traducir y enviar resultados de estudio a la Fundación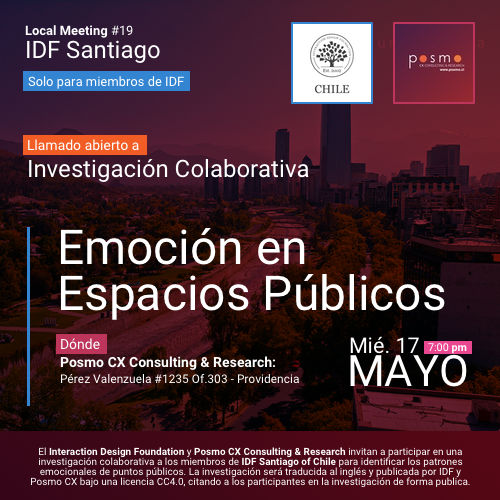 Tiempo de duración de la investigación:
3 a 6 meses, 1 a 2 Encuentros mensuales (Recolección y procesamiento de datos)
Publicación:
Octubre - Noviembre 2017
La investigación será traducida al inglés y publicada por IDF bajo una licencia CC4.0, citando a los participantes en la investigación de forma publica.
Esta jornada inicial tendrá lugar en la oficina de Posmo CX Consulting & Research, ubicado en calle Perez Valenzuela #1235, oficina 303 (Providencia) a las 7pm (Calle de referencia: Manuel Montt, metro Manuel Montt, L1)
Meet-up discussion
Local Leaders of IDF Santiago of Chile
Journalist, expert in Digital Area | Lead I.A. & Content Manager
Santiago
Region Metropolitana
Chile