How to Design in VUCA (Volatile | Uncertain | Chaos | Ambiguous) conditions
ADP Private Ltd
Laxmi Cybercity, Whitefield, Kondapur Hyderabad Telangana 500084
Jan
19
Time zone:
(UTC +05:30) Kolkata
This is an IDF Local Group meet-up
Attendance is free
You do not have to be a member of the IDF to attend
What are Local Groups?
IDF Local Groups will expand your local career network - whether you are interested in learning new skills, looking for new job opportunities, new clients for your company, or a great new dedicated employee.
An IDF Local Group is a group of people who are just as passionate about design as you are. Each Local Group holds physical meetings and the agenda is to get inspired, discuss, have fun, learn and improve your career. Meetings take place in a relaxed and fun atmosphere at a local cafe, an office building, or an auditorium depending on the agenda for the meeting. For each Local Group there is also an online Local Group so you can stay in touch and help update each other on local events.
Meet-up description
Hi UX designers in Hyderabad!
Let's meet to share our thoughts and experiences in designing great UX, and network with one another.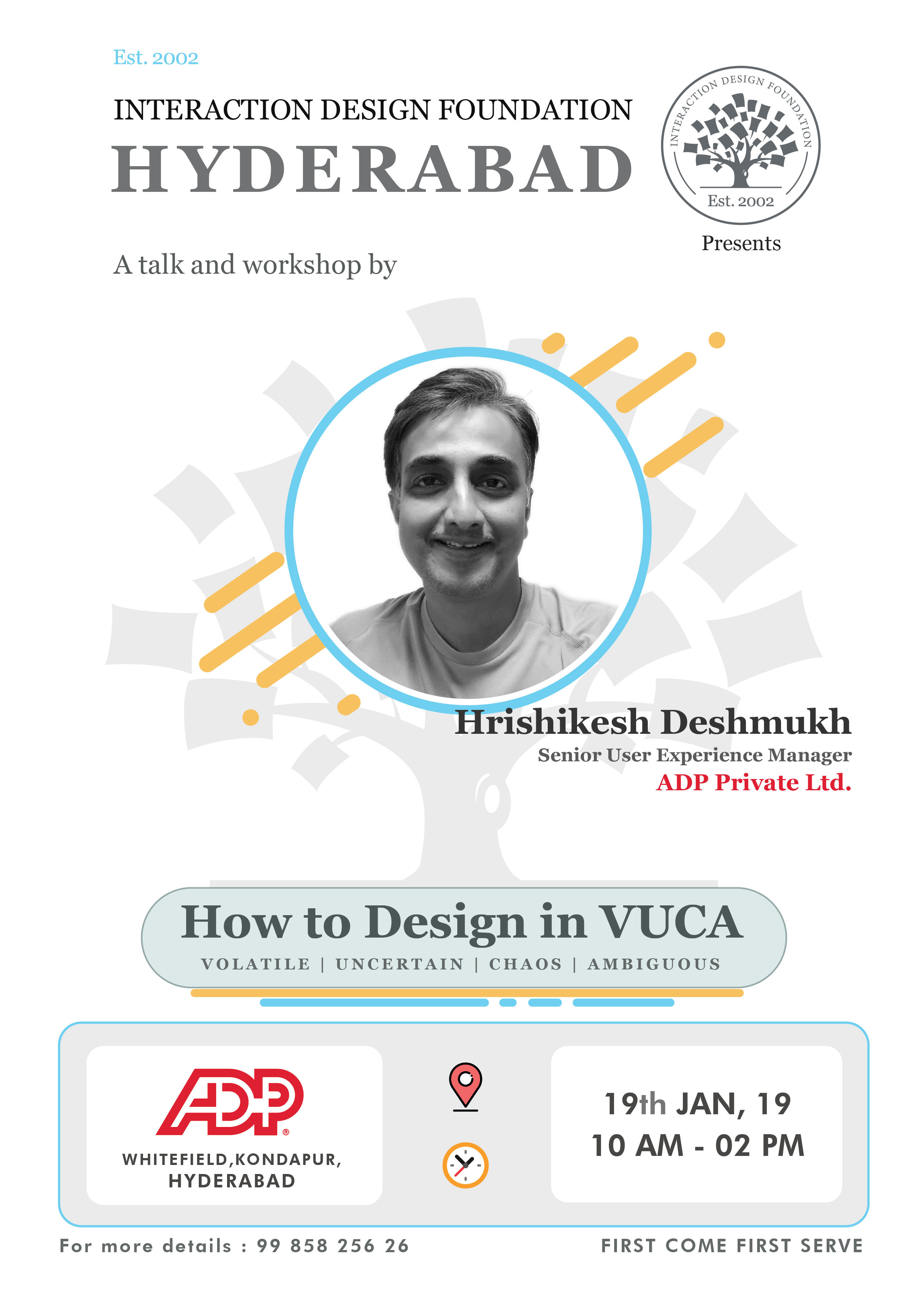 DESIGNING EXPERIENCES IN VUCA WORLD with the technology convergence at its peak, the world is quickly moving into the super agile way of working. Most of the references that you may have about a particular UX framework or process are getting too limited to be adopted for upcoming conditions. So, how do you really prepare yourself for this one?
There could be many possible answers. Let's come together and explore a few scenarios, play games and try to learn together.Looking forward to seeing you all.
Agenda

1.0 Introductions and icebreakers (15 Min)
2.0 A theme for the day (Setting up the tone for the meet up) (30 mins)
2.1 A quick note on VUCA
2.2 UX challenges in the new world
2.3 Hands-on exercise 3. Explorations (90 Mins)
3.1 Design Exercise (60 mins)
---
36 IDF members (and some non-members) are attending:
Meet-up discussion
Local Leaders of IDF Hyderabad
Designer - Experience Design
Visakhapatnam and Hyderabad
Andhra Pradesh and Telangana
India