Diseño de experiencia en la organización
IMPAQTO
Moscú N34-95 y República del Salvador, esq. Quito Pichincha
Jun
21
Time zone:
(UTC +00:00) UTC
This is an IDF Local Group meet-up
Attendance is free
You do not have to be a member of the IDF to attend
What are Local Groups?
IDF Local Groups will expand your local career network - whether you are interested in learning new skills, looking for new job opportunities, new clients for your company, or a great new dedicated employee.
An IDF Local Group is a group of people who are just as passionate about design as you are. Each Local Group holds physical meetings and the agenda is to get inspired, discuss, have fun, learn and improve your career. Meetings take place in a relaxed and fun atmosphere at a local cafe, an office building, or an auditorium depending on the agenda for the meeting. For each Local Group there is also an online Local Group so you can stay in touch and help update each other on local events.
Meet-up description
Hemos escuchado de los conceptos de Design Thinking y metodologías ágiles para diseño y desarrollo de productos, pero ¿cómo traerlos a la forma en que trabajamos en nuestras organizaciones?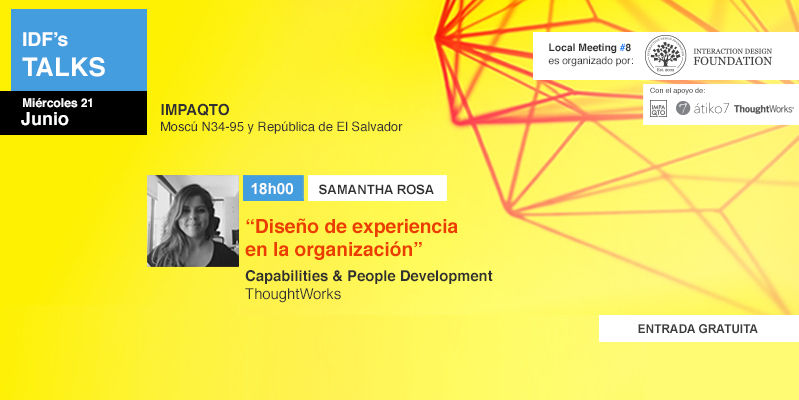 Este
miércoles 21 de junio
, desde las
18h00
les invitamos a compartir nuestro Local Meeting que realizaremos en IMPAQTO (Moscú N34-95 y República del Salvador, esq.). Contaremos con la presencia de
Samantha Rosa
,
Capabilities & People Development de ThoughtWorks
, para hablarnos desde su experiencia como diseñadora de experiencia (UX) que es parte del liderazgo de la operación de una empresa. Nos compartirá los aprendizajes, retos y sugerencias de cómo aplicar herramientas y metodologías de UX en otros ambientes y organizaciones. Además podrás compartir y hacer networking con otros miembros de la comunidad de tecnología, diseño y emprendimiento local!
La entrada es gratuita y puedes invitar a tus amigos y colegas a acompañarte. No es necesario ser miembro de IDF para asistir a nuestros eventos, es más, es un gusto recibir invitados!!

Puedes registrarte en: https://www.eventbrite.com/e/diseno-de-experiencia...
Para más información sigue nuestro Facebook (idfecuador).
Te esperamos!
Meet-up discussion
Local Leaders of IDF Quito